Incentives and Benefits
Effective July of 2020, the State of Maryland, led by Kent County, passed A 10 YEAR SALES AND USE TAX EXEMPTION FOR QUALIFIED DATA CENTERS KENT COUNTY HAS NO PERSONAL PROPERTY TAX.
We also offer:
A Robust Ecosystem for Startups and Entrepreneurs
Reliable Fiber and Power Connectivity
Interstate Access
Access to Higher Education, Continuing Education, and Career Training
Educated and Trained Workforce
Well Balanced Public Schools and Prestigious Independent Schools
Designated Growth Areas
5 Sustainable Communities
Industrial Zones with Railway Access
Competitively Priced Industrial and Professional Park Property
19 Million People Within 100 Miles (providing access to large talent pools, customers, and suppliers)
Rural Setting Provides an Excellent Quality of Life Home of Wide Open Spaces
Enterprise and Opportunity Zone Locations
Grow Your Business Here
Kent County is home to a border-to-border, open access, high-capacity fiber-optic network perfect for data centers, call centers, cybersecurity, telemedicine, training, and education centers. With over 133,000 acres of farmland, 265 miles of tidal shoreline, and access to federal labs and research centers, Kent County is the ideal location for emerging technologies including environmental, aquaculture, and agriculture businesses. The county is located within 90 minutes of three international airports and three major seaports. Route 301 provides a major north-south artery for commercial transportation. The county's private sector industries generate $1billion in gross regional product

MARYLAND'S DISTINCTIVE DATA CENTER LOCATION INVEST IN YOUR FUTURE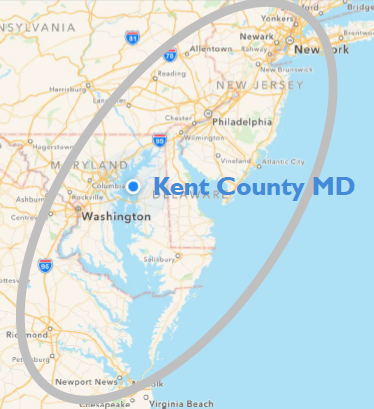 Connected in the Heart of the Mid Atlantic Region
Kent County sits in the heart of the Mid Atlantic region with connectivity and accessibility to New York City, Philadelphia, Baltimore, Washington DC, Wilmington, and Northern Virginia. Our fiber backbone provides the needed connection to ensure data from clients in major metropolitan areas is safely protected and easily accessed Maryland's Eastern Shore provides a safe alternative route for fiber connection to all major cities along the eastern seaboard.
Kent County and the Towns of Chestertown and Millington have zoning districts that specifically allow data centers as an approved use. Flat land and wide open spaces welcome you.