Kent County Hazard Mitigation Plan
Project Overview
Project Overview
Kent County is currently working on an update to the 2014 Hazard Mitigation Plan. Mitigation plans identify potential hazards and vulnerabilities, set goals and establish specific mitigation actions to reduce risk of hazards to people, buildings, infrastructure and the environment. Local mitigation plans are required under Section 322 of the Robert T. Stafford Disaster Relief and Emergency Assistance Act (Stafford Act) as enacted under the Disaster Mitigation Act of 2000 in order to be eligible for federal hazard mitigation grants.
Disasters can cause loss of life; damage buildings and infrastructure; and have devastating consequences for a community's economic, social, and environmental well-being. Hazard mitigation is the effort to reduce loss of life and property by lessening the impact of disasters. In other words, hazard mitigation keeps natural hazards from becoming natural disasters. Having an updated hazard mitigation plan will:
increase awareness of hazards, risk, and vulnerabilities;
identify actions for risk reduction;
focus resources on the greatest risks;
communicate priorities to state and federal officials;
and increase overall awareness of hazards and risks.
HISTORY OF THE KENT COUNTY HAZARD MITIGATION PLAN
The Kent County Hazard Mitigation Plan was originally adopted in 2005 and then again in 2014. Comprehensive updates are required by the Federal Emergency Management Agency (FEMA). The 2020 plan update is multi-jurisdictional in scope. The plan update will include unincorporated areas of Kent County and the towns of Betterton, Chestertown, Galena, Millington, and Rock Hall.
2020 PLANNING PROCESS
The first step in the planning process involves the identification of key stakeholders to serve on the planning committee. Sixty people from various agencies, departments, organizations, and municipalities have been identified to serve on the planning committee. The plan will be developed over the summer months. Additional information developed over the course of the planning process will be posted on this website.
Please view the "FEMA Hazard Mitigation Process" handout.
For more information on the plan development process and how you can participate, please refer to the "Engage in the Planning Process" tab on this website.
Engage in the Planning Process
Engage in the Planning Process
There are several ways for Kent County residents to get involved in the hazard mitigation planning process, including taking an online public survey as well as participating in stakeholder meetings held throughout the planning process.
Public Survey
Please utilize the following link to participate in the Online Public Survey:
https://www.surveymonkey.com/r/HLV9L3F
We thank you sincerely for your time!
The Kent County Hazard Mitigation Plan is a project that aims to ensure the County is prepared for all kinds of hazards. The Office of Emergency Services is placing special emphasis on understanding citizens' concerns regarding hazards. Community members input to the process is incredibly valuable. This survey is being used to collect your insight and perspective. The survey consists of 9 questions and will take an average of 4 minutes or less to complete.
As part of the survey, the following hazards were determined to likely affect Kent County. These include any events, emergencies, or crises that may occur relatively suddenly or happen largely uncontrollably, such as natural disasters or disease outbreaks. In our efforts to make sure planning documents address your concerns, we are interested in knowing how concerned you are for each of the hazards listed below.
Identified Hazards
Flood (Riverine & Coastal) - Two different types of flooding are associated with the flood hazard, riverine and coastal. Riverine flooding is caused by persistent moderate or heavy rain over one or more days. Coastal flooding Coastal flooding occurs when normally dry, low-lying land is flooded by seawater. Due to the low elevations, mild relief, deep embayments, and peninsular location, Kent County is quite vulnerable to floods from three sides and inland due to coastal and riverine sources.
Hurricanes (Tropical Storms) - Tropical storms and hurricanes, are low pressure systems that usually form over the tropics, referred to as "cyclones" due to their rotation. Kent County is surrounded by water bodies, most of them tidal. Nearly all of the County's municipalities, villages, and communities have been affected by hurricane and tropical storm affects.
Climate Change (Erosion & Sea Level Rise) - Erosion is influenced by natural conditions, which include soil composition, weather, topography, water depth, fetch, surface water/ groundwater conditions. Sea level rise contributes to shoreline erosion by influencing and exacerbating on-going coastal processes, making coastal areas more vulnerable to extreme events. Much of the Kent County's soils are highly erodible and susceptible to storm damage. With shoreline cliffs and steep banks along the Sassafras and the Chesapeake Bay, overland flow meets storm surge events halfway and causes unique erosion problems.
Snow & Ice Storms (Winter Storm/Weather) - Snow and winter storms are not uncommon in Kent County. Since the County is subjected to extreme cold weather conditions periodically, there have occasionally been instances of severe winter storms. Since 2000, four major winter storms have occurred in the County which yielded Declarations of Disaster by FEMA.
Extreme Temperatures - Extreme Temperature hazard includes: Excessive Heat, Heat, and Excessive Cold/Wind Chill. Extreme heat is usually defined through a combination of temperature and humidity; extreme cold is based on the temperature with wind chill. Between 2000 and 2020, a total of 76 extreme temperature events have occurred in Kent County.
Severe Storms (Thunderstorms Winds, Lightning & Hail) - The effects of thunderstorm events may cause many types of hazards including power outages, communication failures, road closures, and loss of infrastructure. Kent County has experienced at least 3 severe storm events per year, which resulted in thousands of dollars in damages.
Derecho (High Wind) - Extreme wind event that occurs during different weather events and can impact buildings, power, etc. According to the National Centers for Environmental Information, Kent County has experienced 112 events in 25 years. These events have contributed to thousands of dollars in property damage.
Tornado - A tornado is defined as a violently rotating column of air extending from a thunderstorm to the ground. Tornadoes are not a common occurrence in Kent County. While the magnitude and location of tornadoes are unpredictable, most of those occurring in the County over the last 60 years have been classified as low intensity (F0 and F1).
Earthquake - Motion or trembling of the ground produced by sudden displacement of rock usually within the upper 10-20 miles of the Earth's crust affecting roadways and foundations of buildings. Although no earthquake epicenters have been documented within Kent County, all of the county could be affected by earthquakes occurring on the Western Shore or in neighboring states. The most significant event to affect Kent County was the 2011 Virginia Earthquake, which caused minor damage to several historic structures in Chestertown.
Pandemic - A pandemic is a global outbreak of disease. Pandemics happen when a new virus emerges to infect people and can spread between people sustainably. This hazard strains the healthcare system, requires school closures, causes high rates of illness. Previous events that exemplify this hazard include the 1918 Spanish flu, the 2003 SARS outbreak (which had pandemic potential), 2009 Swine flu influenza, and now COVID-19.
Please use the following link to join us on our next virtual Stakeholder Meeting:
https://smithplanninganddesign.my.webex.com/smithplanninganddesign.my/j.php?MTID=m68174c5117b2fc551e3d0961f6287b58
Meeting #: 132 492 3896
Or Join by Phone:
+1-408-418-9388 United States Toll
Access code: 132 492 3896
Stakeholder Meeting #1 Notes - June 2020
Stakeholder Meeting #2 Notes - July 2020
Stakeholder Meeting #3 Notes
Webex Recording - Play recording (32 mins) - Password: gQAmbF7q
Handout
Additional stakeholder meetings will be held throughout the planning process. Dates, times and meeting information will be provided on this tab.
Kent County Hazard Mitigation Plan - MASTER
Hazard Risk & Vulnerability
Hazard Risk & Vulnerability
Hazard risk and vulnerability information provides the factual basis for activities proposed in the strategy portion of the hazard mitigation plan update. Understanding hazard risk and vulnerability informs proposed actions by focusing attention and resources on hazards that pose the greatest risks.
One of the first steps in assessing hazard risk and vulnerability is investigating various types of natural hazards faced by the County over the past several decades. The following hazards have been documented as affecting Kent County and were assessed for inclusion in the 2020 Kent County Hazard Mitigation Plan Update. The table below provides information on hazards identified in the previous 2014 plan, and any modifications made during this plan update process.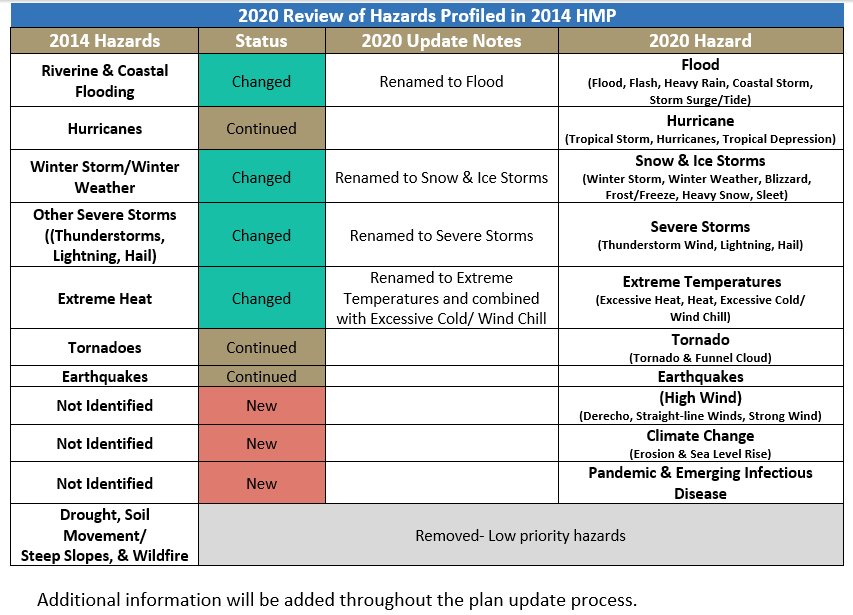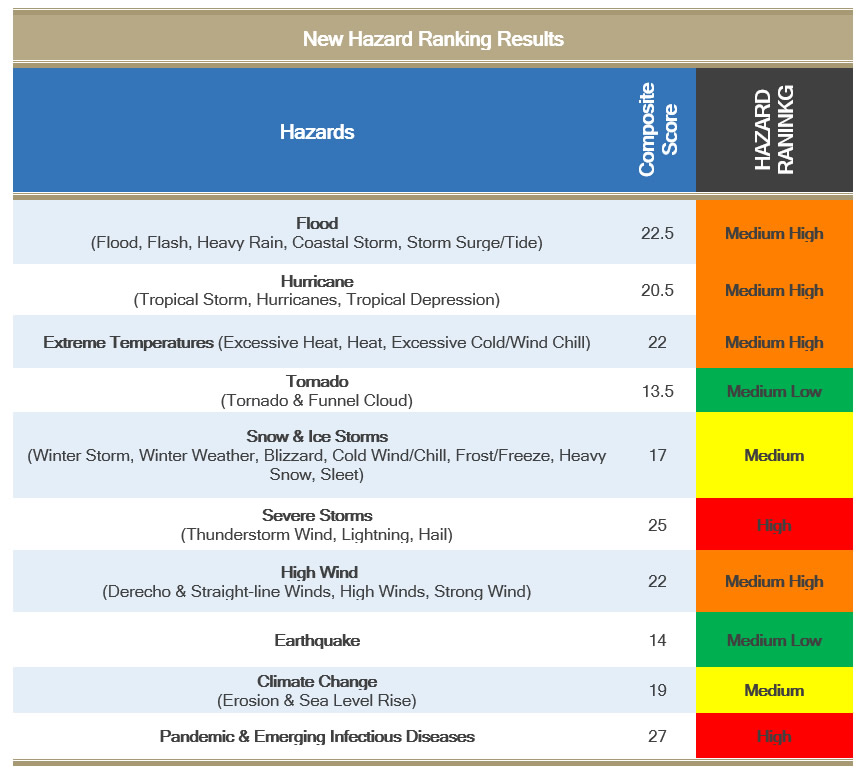 Hazard Mitigation Activities for Risk Reduction
Hazard Mitigation Activities for Risk Reduction
Possible mitigation activities may include:
Adoption and enforcement of regulatory tools, including ordinances, regulations, and building codes, to guide and inform land use, development, and redevelopment decisions in areas affected by hazards.
Acquisition or elevation of flood-damaged homes or businesses retrofit public buildings, schools, and critical facilities to withstand extreme wind events or ground shaking from earthquakes.
Creating a buffer area by protecting natural resources, such as floodplains, wetlands, or sensitive habitats. Additional benefits to the community may include improved water quality and recreational opportunities.
Implement outreach programs to educate property owners and the public about risk and about mitigation measures to protect homes and businesses.
FEMA Publication: Mitigation Ideas: A Resource for Reducing Risk to Natural Hazards provides ideas for mitigation actions.
STEPS TO MINIMIZE FLOOD LOSSES FOR HOMEOWNERS
Minimize your potential losses from flooding by taking the following steps:
Elevate and anchor critical utilities, such as, electrical panels, propane tanks, sockets, wiring, appliances, and heating systems.
Waterproof your basement, install a water alarm, and maintain a working sump pump. Install a battery-operated backup pump in case of power failure.
Clear debris gutters and downspouts to avoid water accumulation.
When flooding is predicted or imminent, move furniture and valuable to safe place, such as an attic or highest floor in your home.
Consider when renovating or reconstructing, to consider elevating the first floor of inhabitable space more than the required 2-foot flood protection elevation.
The National Flood Insurance Program (NFIP) was enacted by the Federal government in 1968 to facilitate citizens' access to affordable flood insurance and shift the burden of private property flood losses from taxpayers to floodplain property owners. The program is also designed to guide development away from flood hazard areas and requires new design and construction to be carried out in a way that minimizes or prevents flood damage.
Visit Flood Insurance for Marylanders for frequently asked questions about flood insurance in order to help understand the difference between homeowners insurance and flood insurance, and make an informed decision to protect yourself from a devastating financial loss in the event of a flood. The National Flood Insurance Program Fact Sheet provides additional information on the NFIP.
Determine your flood risk by using the Flood Risk Application. Simply type your address in the "Find Address" search bar and click your location.
2020-2025 Mitigation Action Items & Prioritization