Kent County Bird Club
A Chapter of the Maryland Ornithological Society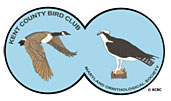 The Kent County Bird Club, a Chapter of the Maryland Ornithological Society (MOS), is a local nonprofit organization dedicated to promoting the understanding and enjoyment of birds, as well as the conservation of wildlife habitats. It promotes recreational and social events, educational programs and information exchange.
Members and visitors are welcome to join local and regional field trips and bird counts led by expert birders from September to June and to attend monthly meetings featuring varied presentations on eco-travel, bird identification and biology and conservation issues. MOS also holds an annual conference and publishes a bi-monthly newsletter.
Whether you simply like to look out your widow at a bird feeder or put on hip waders for a trek through the swamp, membership in the Kent County Bird Club and the Maryland Ornithological Society will enrich your birding experiences. No matter what your birding ability, you will meet new friends, grow in your knowledge of birds and nature, and have plenty of fun.
Officers
Membership
Your membership in the Society provides support for the MOS sanctuary program, scholarships and research grants, and subscriptions to publications of the Society. More importantly, however, your membership means you become a partner with those who care about wise stewardship of our natural resources. Join today!
MEMBERSHIP APPLICATION
NAME _____________________________________________________________
ADDRESS __________________________________________________________
TOWN, STATE ________________________________________________________
PHONE ____________________________________________
The annual program runs from September through August. Dues are payable September 1st.

For Membership
__ Household - $45
__ Individual - $30
__ Youth - $10
__ Life - $1000
__ Affiliate - $5 (Kent County Bird Club only – must be a member of another chapter)


Steve Croker, Treasurer
Kent County Bird Club
PO Box 1003
Chestertown, MD 21620
Make checks payable to: Kent County Bird Club