A Bird's-Eye View of Kent County, Maryland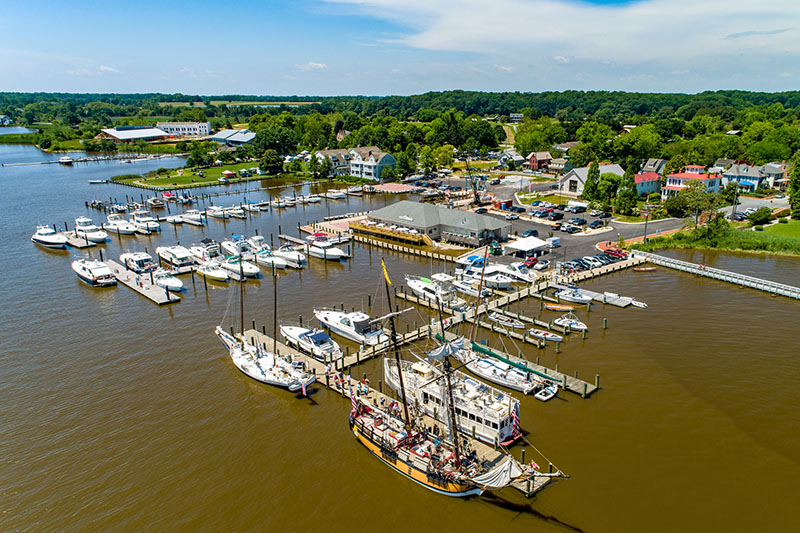 A patchwork of green, yellow and brown covers a landscape surrounded by large swaths of silvery-blue glinting like a mirror for the sun; ribbons of jade and teal weave through clusters of lush green groves; and quaint towns where life is easy and offer fountains and flower gardens by which to rest. This is Kent County, Maryland, from a bird's-eye view. With a landscape this inviting, it's no wonder the area is a haven for birds, waterfowl and butterflies.
From wood to wetland and agricultural to pelagic, Kent County's variety of ecosystems offers both migratory and resident birds prime habitats for respite or long-term stays, and the year-round accommodations mean it's a major destination for birding enthusiasts, too.
As of spring 2019, the Maryland Ornithological Society listed 453 species of birds in Maryland (310 in Kent County alone) with another 20 listed as subspecies or species of questionable or exotic origin. That's nearly half of the 1,107 species reported to exist within the U.S. So, whether it's the migratory season or the months in between, there's lots of quacking, honking and singing going on.
Sighting Hot Spots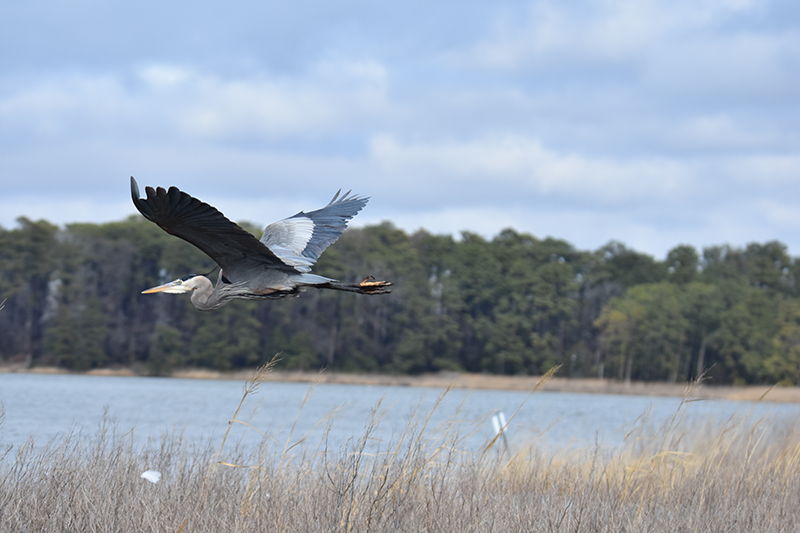 There's plenty of space for everyone and everything at the Millington Wildlife Management Area. Once home to the Lenni Lenape Indians, the area's protected 4,000 acres are now managed by the Maryland Department of Natural Resources and dedicated to the conservation, protection and management of wildlife and their habitats. Birders aim long lenses to catch a shot at colorful and elusive specimens resting on sun-dappled branches. Fishing, cycling, hiking, horseback riding and other outdoor activities are also welcome in the wildlife management area.
The smaller Sassafras Natural Resource Management Area (SNRMA) has similar experiences atop wooded hillsides and rocky bluffs overlooking the Sassafras River and along its wetland banks. Nine miles of trails offer a pathway into the forested sanctuary of songbirds where you can enjoy their tunes while soaking up the tranquil surroundings. Watch raptors soar overhead as they search for their supper and herons forage for fish in tidal pools and lily ponds. In early colonial times, the landing in Turner's Creek served as a shipping port and the granary, still present, stored supplies that were shipped to George Washington's troops at Valley Forge. Learn more about the area's history at the on-site Kent Museum and Knock's Folly Visitor Center.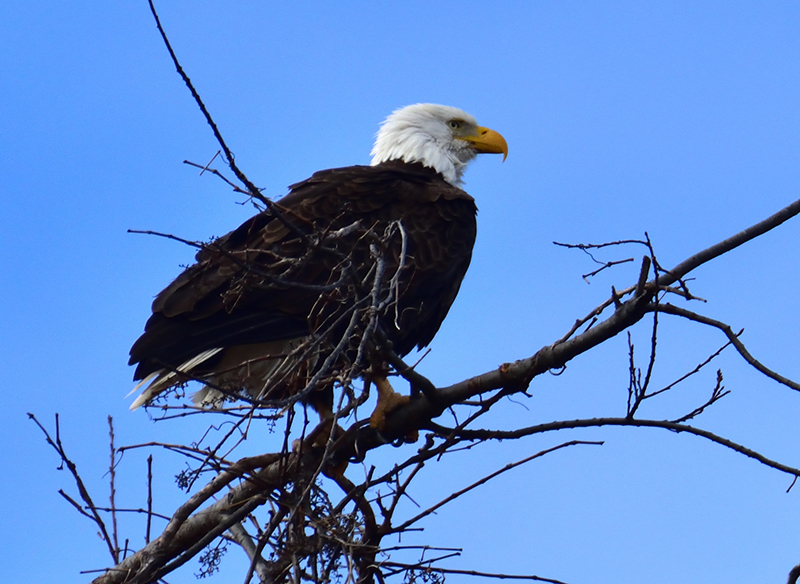 Located on an island at the southern tip of the county, Eastern Neck National Wildlife Refuge (ENNWR) has nearly 2,300 acres of refuge for migratory birds, including the elegant and pristine tundra swan that flock to the area in late November. When Meriwether Lewis encountered the swans during his famous expedition with William Clark, he referred to them as "whistling swans" for the characteristic sound the air makes while flowing along with its wings in flight. Observe these romanticized birds through March around the island as they float in mated pairs and enjoy a bounty of clams. There are plenty of trails and platforms at ENNWR, but one of the best spots to catch a glimpse is named, (what else?), Tundra Swan Observation Deck.
Another famous creature you might see soaring through the skies for a meal in Kent County is the bald eagle. This majestic bird has been our national emblem since the summer of 1782 when the founding fathers believed it only existed on our American shores. They also chose the bald eagle as a symbol because of its prodigious strength, long life and regal good looks. Like the tundra swan, the bald eagle is a noble-looking bird and quite a sight to see.
Watch for bald eagles year-round at the refuge's many observation platforms and trails. Learn more about these and other birds' interesting behaviors on a Saturday morning birding walk with a guide from the Friends of Eastern Neck National Wildlife Refuge. These birding walks are led by professionals and allow participants to enter restricted areas for optimal viewing opportunities. The refuge hosts the event once each month, from December through March.
Observing butterflies and keeping track of their various species is as rewarding in Kent County as birdwatching. In the summer, Eastern Neck Island is aflutter as hundreds of butterflies flock to sip nectar from flowers specifically cultivated in the ENNWR butterfly garden to attract them. Painted ladies, viceroys, the aptly named zebra swallowtail, various hairstreaks and many members of the skipper species are all regular visitors to the area.
Chesapeake Farms, a 3,300-acre farm owned and managed by Corteva Agriscience, which is a division of DowDuPont, offers a self-guided, 14-stop driving tour of the property where, from the comfort of your car, you can view how the ecosystems of native flora and fauna exist in symbiosis with agriculture. Managed resting ponds invite waterfowl to designated areas, while grassed waterways provide a natural filtration system for sediment; nesting hedges provide cover and travel lanes for wildlife as nest boxes and towers attract bluebirds, kestrels, eagles and hawks. Grass fields, marsh and wooded sections provide further habitat, food sources and nesting materials to sustain animal environments amid human endeavors. It's an education in responsible cultivation.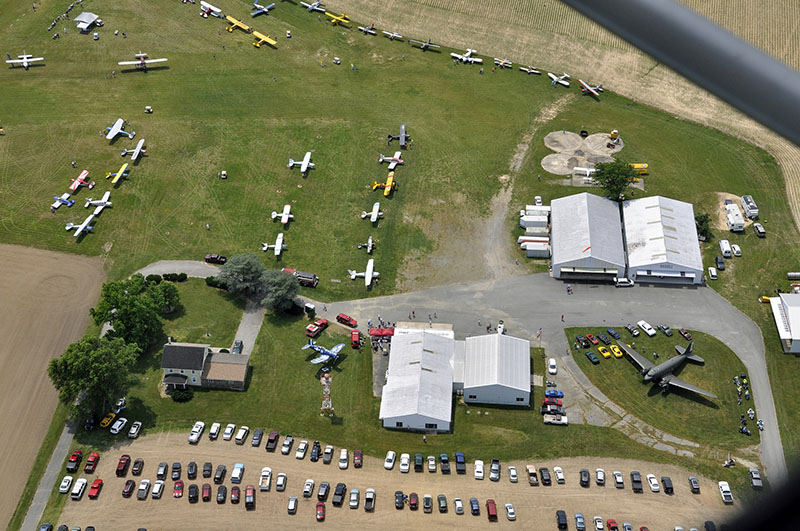 Taking Flight
With a wingspan up to 7 feet, bald eagles seem to glide endlessly in silent flight. Observing a bird's ability to remain airborne has inspired people to imitate the feat since well before the Wright brothers managed to make it a reality. At the Massey Air Museum, the marvel of flight continues to be appreciated both on the ground and in the air. Inside the hangars of this airport/museum, see antique planes in the midst of restorations, tour a collection of aircraft (as colorful as the birds that inspired them) and learn about the history of aviation.
Winged wonders like the tundra swan migrate thousands of miles each year, surveying the terrain below them for the perfect place to land and recharge. See Kent County from their perspective on a glider ride (offered year-round) or a biplane tour (May through October) that takes flight from the Massey Aerodrome.
Like birds of a feather flock together, pilots are invited to participate in fly-in events where the community is always welcome, and Massey's Young Eagles program encourages kids to engage in the miracle of flight. For specific dates, check its website.

Where to Lay Your Head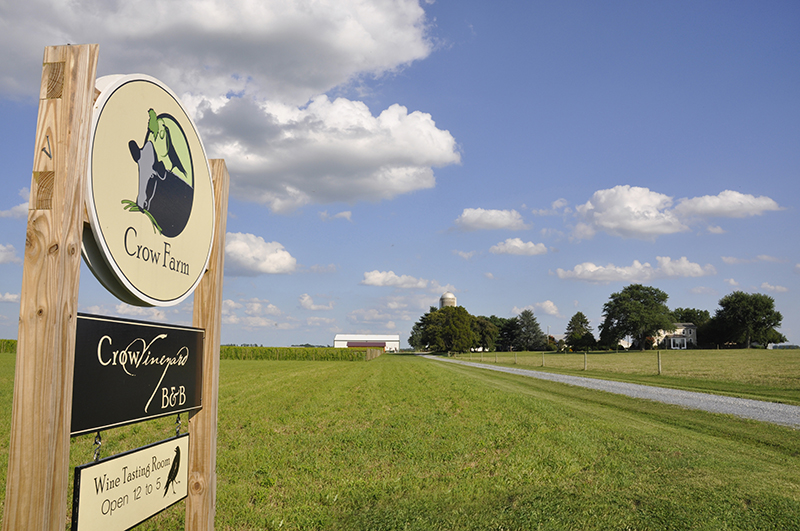 When you do flock to Kent County to go birding, make overnight accommodations at Bayshore Campground, which is close to ENNWR in Rock Hall and provides more opportunities to see birds in their natural habitat. It's a magical setting that sits on 60 acres with several waterfront campgrounds overlooking the Bay with water and electric hookups, as well as spots for RVs and tents of all sizes. The Inn at Huntingfield Creek is an equally picturesque option that is close to ENNWR and Rock Hall. It is nestled inside a 70-acre farm with five manor rooms and seven pet-friendly, upscale cottages and a saltwater pool right on the waterfront.
The Inn at Mitchell House, a lovely 18th-century manor home, is located between Chestertown and Rock Hall. Guests can enjoy a private beach and the full services of nearby Tolchester Marina. Its beautifully manicured landscape provides a natural habitat for a plethora of bird species.

Another unique lodging experience is Crow Vineyard, Winery & Inn, which affords guests the chance to overnight in a historic farmhouse near the Sassafras Natural Resource Management Area (SNRMA). The structure was built in 1847 but has been newly renovated with central heat and air conditioning. For those who came to Kent County to get close to nature, you can walk the 365-acre farm and enjoy a picnic lunch while staring out over the vineyard and expansive fields. The relaxed rural setting has three bedrooms with private baths or a cottage, a short jaunt from the B&B farmhouse.
Kitty Knight House is a charming historic inn and restaurant with a colonial tavern that's also near SNRMA. It's adorable deck bar and dining room windows all overlook the Sassafras River. If you don't see any native-winged creatures, at least you'll catch one of the area's beautiful sunsets from a prime perch.
Dining with a View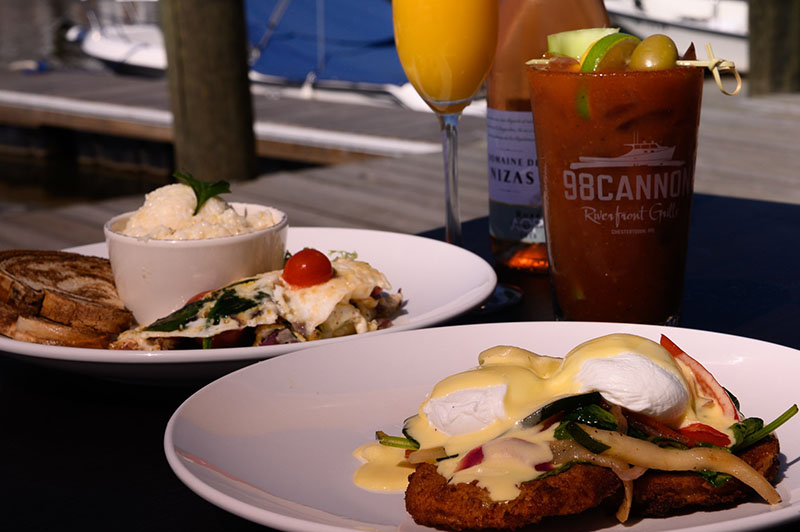 Getting the chance to experience Kent County's incredible waterfront dining while witnessing waterfowl in their natural habitat is a bird lover's dream. 98 Cannon Riverfront Grille is where you can enjoy a bowl of Old Bay steamed Gulf shrimp or Kay-Kay's steamed clams while spotting resident geese and ducks that have made Chestertown their year-round home.
Down the way, Fish Whistle at The Granary in Georgetown is now serving its bacon-wrapped scallops, drunken mussels and Maryland crab soup to diners overlooking the Sassafras River. Nesting birds around this area include the bank swallow, yellow warbler, great blue heron and the occasional bald eagle.
While there is a slew of fabulous spots to grab a bite and make a bird sighting, Two Tree Restaurant in Millington near the Millington Wildlife Management Area is another standout among the local fare. Its seasonal menu changes frequently and the produce is usually coming straight from its own garden or nearby purveyors. Don't fly out of town without making a reservation beforehand.
An Activity for Everyone
You don't have to be a serious birder to enjoy the activity of bird-watching. Wildlife enthusiasts spend four to five figures traveling to see creatures of all kinds, but with birding, you simply have to walk outside and be still. It's one of the easiest hobbies to enjoy—requiring nothing more than a pair of binoculars to get the best view, and it can be enjoyed at any age. Children thrive in the scavenger hunt characteristics while parents appreciate that it gets them outside, and seniors enjoy its convenience and relaxing qualities.
Make it easy to get started by visiting Kent County where the sightings are simple, and there's so much more to see and do. Plan your stay today.