Chasing the Chesapeake Bay Blue Crab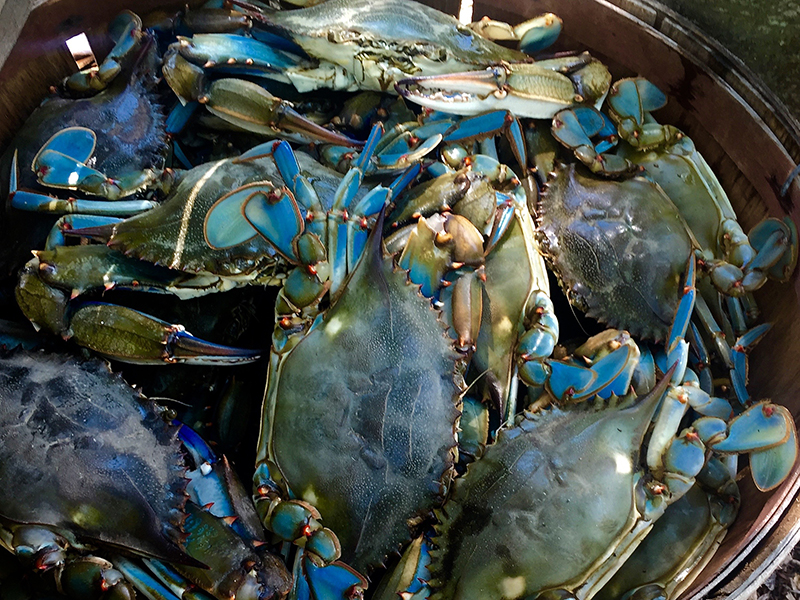 Grab those wooden mallets because it's time to chase down the delicate, sweet seafood flavor of the Chesapeake Bay blue crab, and in Kent County, Maryland, the supply is plentiful and the tradition of celebrating the season is lively.
Callinectes sapidus or "beautiful, savory swimmers" have shades of blue mainly on their legs and claws, and some specimens, though rare, are entirely blue. No matter the amount of blue, these crabs harvested from the Chesapeake Bay promise sweet, delicate meat.
Blue crabs are smaller than Dungeness crabs, but when it comes to flavor, size doesn't matter. Some of the sweetest meat comes from smaller crabs. You might work a bit more for those delicate morsels, but that's part of the fun—a relaxed, communal meal that keeps the conversation flowing as everyone enjoys the great food and drinks.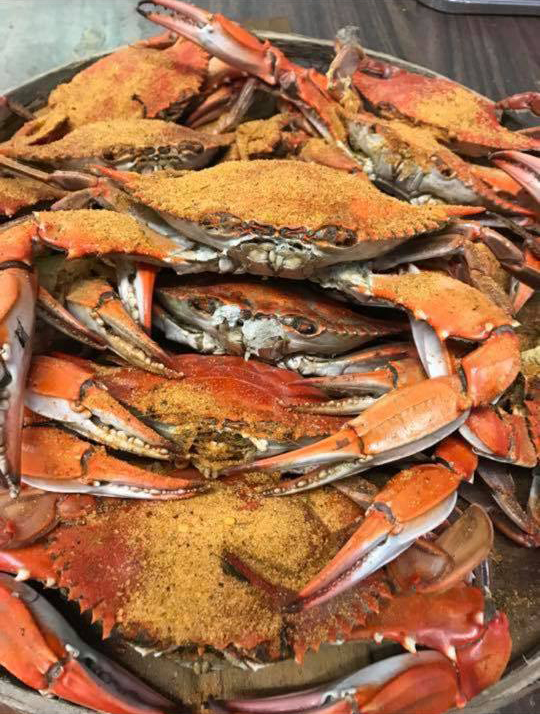 Crack. Shuck. Savor.
The locals will tell you the Chesapeake Bay blue crabs are best when steamed, doused with apple cider vinegar and sprinkled with seasoning. Don't expect melted butter to be served alongside these blue beauties; it's all about the vinegar and dry seasoning.
The proprietary seasoning blend at Waterman's Crab House includes "rock salt, some hot pepper and Old Bay, but that's all I can tell you," said the Manager of the secret recipe. Enjoy outdoor seating at this dockside eatery and watch the boats come and go while listening to the sounds of the sea (or live music on weekends). At Ford's Seafood, savor its J.O. #2 Crab Seasoning that's sprinkled on its local steamers. Dine there or buy in bulk for takeout. Check its daily specials as prices change based on the day's catch. For $20.00, the restaurant will steam your catch.
Buy steamed or live crabs by the dozen, half-bushel or bushel at Clark's Seafood and Chester River Seafood—a True Blue Certified purveyor specializing in river crabs (which are caught on a trotline and tend to be sweeter). Chester River Seafood also ships anywhere in the U.S. for overnight delivery. Like Ford's, both places can accommodate steaming your catch for $20.00.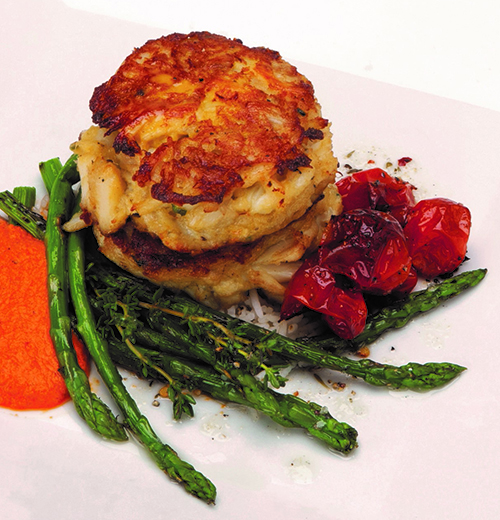 Not in the mood to work for your meat? Not a problem! Savor lump, claw and backfin crab meat from sea to table during the season at many Kent County restaurants. From waterfront eateries—like 98 Cannon Riverfront Grille in Chestertown where you can enjoy the view on the crab deck—to seafood restaurants and beyond, you can find a variety of ways to savor this delicacy, such as moist crab cakes, rich and creamy Crab Imperial, a variety of crab-stuffed entrees, and Maryland vegetable or cream of crab soups. Also discover crab-enhanced pasta, sushi, salads, quesadillas, wontons, even pretzels—because crab makes everything taste better.
You'll rarely experience the same dish twice since most chefs have their unique twist on the ingredients or cooking methods. Some recipes are handed down through the generations and kept under lock and key like the famous crab cakes at Uncle Charlie's Bistro. Meanwhile, the Maryland Crab Soup at Pasta Plus has a hearty flavor from the bacon that's sautéed in the base.
If you're staying at a bed-and-breakfast establishment, you will often be treated to seasonal crab specialties. Great Oak Manor confirms it's the Gruyere cheese that gives its crab quiche a delightful flavor. Tracy Stone, owner of The Inn at Mitchell House, said if she had to pick one ingredient that differentiates her Chestertown crab quiche (made on request for special occasions), "it would be the dry sherry."
Find these and other regional recipes in the "Tastiest Catch Cookbook," published by Eastern Shore Heritage, Inc. to support its project—a campaign designed to preserve and maintain the cultural heritage, natural beauty and wildlife habitats of the area.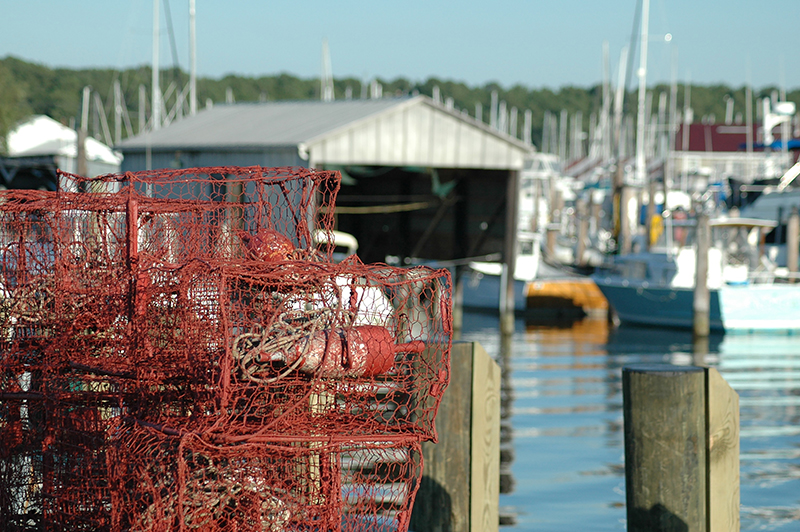 Baiting These Beauties
Thankfully, crabbing for blues isn't like crabbing for kings in the Bering Sea—it's fairly easy and doesn't put your life at risk. Join a crabbing charter with Captain Brant Nordhoff of the family-run Chesapeake Bay Crabbing Charters or aboard Miss Doe II, captained by Clay Larrimore who's been guiding groups in search of these blue beauties since 1970. You'll set out ahead of the rising sun to snag up to two bushels per person. After your midday return, take your bounty to one of the aforementioned market purveyors or steam them yourself, then spread out and get cracking at a county park.
If you want to try to catch blue crabs on your own, try your luck with a trotline or trap from shore or skiff (available for rent at Eastern Neck Boat Rentals), or launch your own boat from one of many public landings.
String a sinker through your bait (fresh fish works best) and toss your line into the water. Once your line starts to lose slack, you've got a crawler taking the bait. Pull your line in slowly—this chase is less of race and more of a gentle tug of war. Then, when the crab's within reach, scoop it up with a net, which is much easier with two people—one to draw the line and the other to work the net.
With a trap, place the bait in the center and drop it in the drink; wait a few minutes to allow the crab to be lured in; give the line a quick tug to close the trap; then pull it up (hand over hand) to see if you've scored.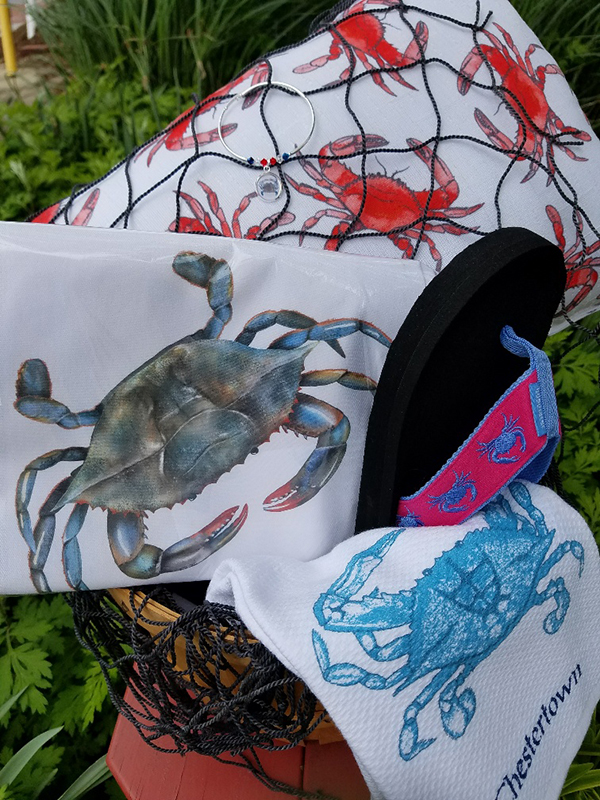 When handling a crab, be careful of those claws—hold these beautiful, savory swimmers above the back two legs or where one of its claws connects to the shell. Be sure to review state crabbing license regulations as well as time-of-day, size and catch limitations.
For the Crab Shack
It doesn't have to be crab season for the famous crustacean to show up at Kent County shops. Discover one-of-a-kind, local craftsmanship featuring the blue crab at Riverside Unique in Chestertown. Purchase prints by local artists or gather supplies to create your own masterpiece at The Finishing Touch, where you can create a custom frame.
Decorate your kitchen with towels, trivets, trays and more from Twigs & Tea Cups. More kitchen and household goods plus clothing and accessories can be found at Houston's Dockside Emporium, where Hazel says the mugs, jewelry, tote bags, flip flops and wine glasses are popular.
The Hickory Stick in Rock Hall ensures man's best friend doesn't get overlooked in all the crabby excitement. The store sells dog collars and leashes as well as other crab-embellished items.
Maryland's crabbing season is from April 1 through mid-December, so visit Kent County and make chasing these blue beauties one of your family traditions.