Define Your Own Space—Dock Your Boat in Kent County on the Chesapeake Bay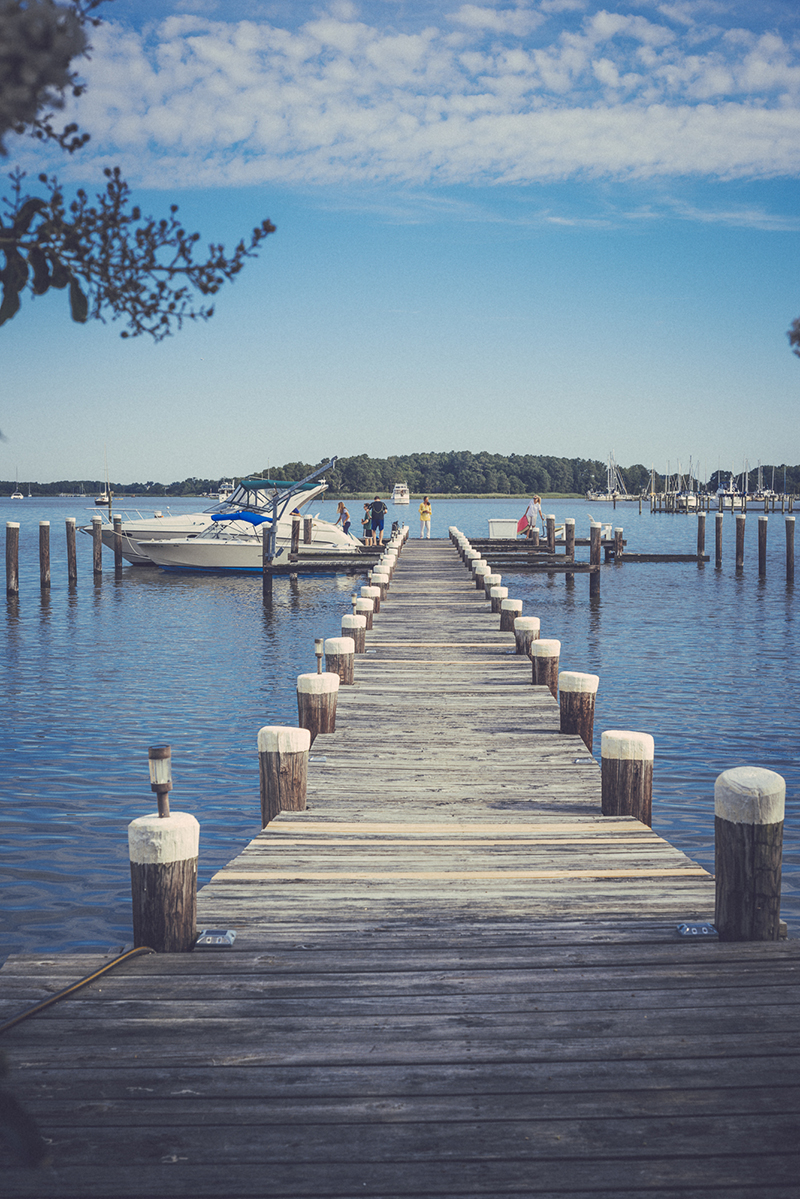 Summer breezes are calling for a maritime adventure in a magical setting. The Chesapeake Bay, Sassafras River and Chester River are enchanting waters on the Eastern Shore of Maryland. Whether it's via wind or motor, a boat can take you anywhere you want to be—including, away from it all.
Americans are aching to get outside and go experience something serene. Summer travel plans may not be typical this year, so cars—and boats!—are going to be some of the best ways to explore. Perhaps it's time to try something new and go on a true adventure where you can make your own memories with family or friends and define your own space.
Kent County is BYOB-friendly (i.e. Bring Your Own Boat). Rent a slip at one of Kent County's 30+ marinas where you can stay the weekend or a whole summer. The area includes quaint picturesque towns, such as Rock Hall, Galena, and Historic Chestertown each with its own unique marinas. Betterton, a quaint beach town, has many boat slips.
Spend sunny days aboard a boat scouting Kent County's 209 miles of shoreline, a maze of tidal creeks and rivers, or cast out into the open briny waters of the Chesapeake Bay and eventually drift back to shore to discover a gunkhole to drop anchor in for a few hours. Then tie up at one of the many marinas throughout the county—from large resort marinas to smaller ones on quiet coves to marinas located right on a bustling Main Street.
Resort Marinas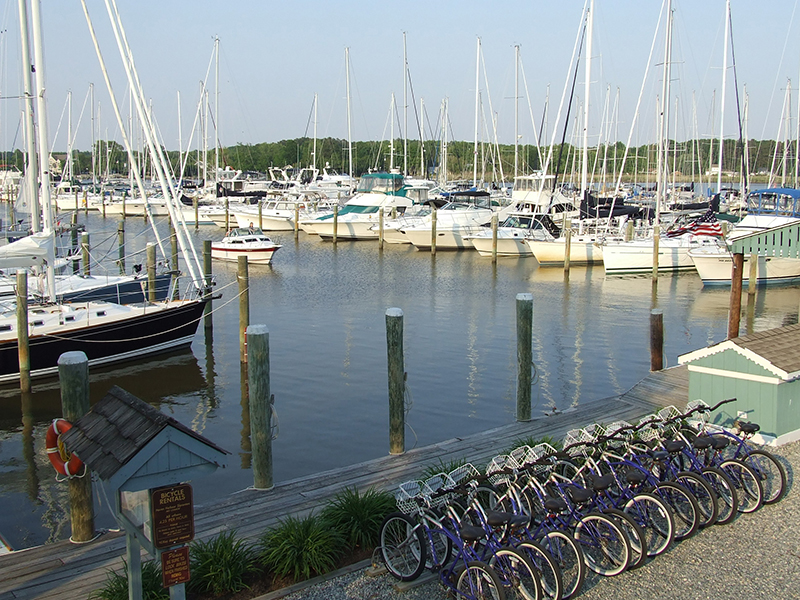 At these larger marinas in Kent County, enjoy resort privileges and amenities that include everything from overnight accommodations in a full-service inn and fuel docks to Wi-Fi to air-conditioned bathhouses with showers. You can step off your boat right into swimming pools, onsite restaurants, bike and kayak rentals, or take advantage of other luxuries nearby such as volleyball courts, horseback riding, golf excursions, playgrounds and even wedding venues! Discover some of the unique offerings at marinas throughout the county.
Gratitude Marina is one of two large sister marinas—the other is Osprey Point Marina—in Rock Hall. Guests of either property have access to Osprey Point Inn on the banks of the Swan Creek and slip-holders receive a 15% discount on guest rooms. The architecture of the seven-room Main Inn at the marina is reminiscent of colonial times and has a lovely romantic restaurant on-site that serves fresh seasonal dishes. You can enjoy your meal in the well-appointed dining room, at the cozy bar, or on a patio overlooking the tranquil water. Gratitude Marina has been open for 50 years and offers full-length, finger piers with electric and water hookups.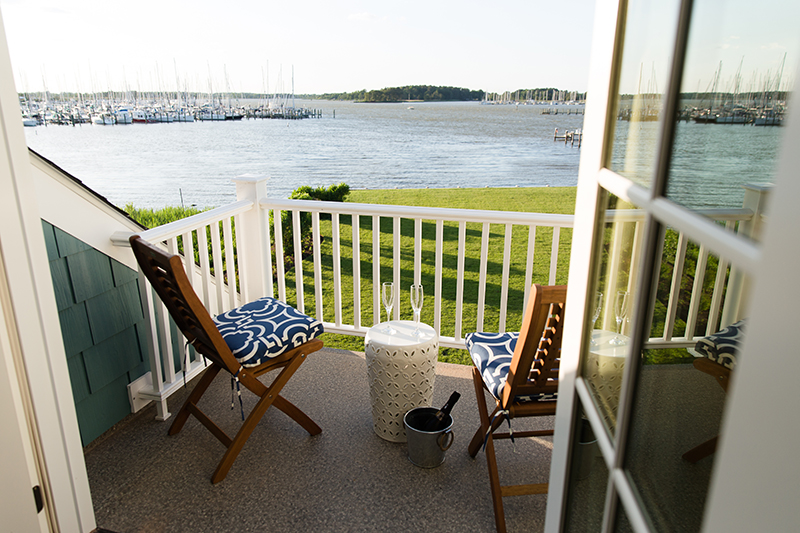 Nearby, Osprey Point Marina resort complex provides you with an air-conditioned bathhouse, outdoor pool, 30 acres for outdoor games, picnics and it even has a gorgeous wedding and event gazebo venue for smaller affairs, as well as ample space for tented wedding receptions.
The Farmhouse is another one of Osprey Point's overnight offerings and is a 10-minute walk from The Main Inn. The four-bedroom, 2 1/2-bath property is available for full buy-outs. It comes complete with a full kitchen, sunroom, screened-in-porch, pull-out couch, charcoal grill, picnic tables and a fire pit for s'mores. The Annex on the Bay is more lodging offered to Gratitude and Osprey Point slip-holders. This additional six-room property has multiple accommodations with balconies and spectacular sunset views of Swan Creek, Key Bridge and Chesapeake Bay Bridge.
Other properties set within the quaint fishing village of the Rock Hall marinas are the five-room Black Duck Inn with complimentary dockage for guests who arrive by boat; Carriage House is also accessible by boat; North Point Marina Motel is bayside with its own swimming pool; and at nearby, The Inn at Mitchell House, a historic bed-and-breakfast with accolades from The New York Times, Washington Post and New York, is near Tolchester Marina.
The restaurant scene in Rock Hall is equally enticing for boaters. Waterman's Crabhouse, Dockside Café, and Harbor Shack are all within walking distance to a marina. If you want to take a short trolley ride and venture out to downtown restaurants, don't skip Anchor & Plow, Bay Wolf, Ford's Seafood, Java Rock and Pasta Plus—all scrumptious.
Luxe Marinas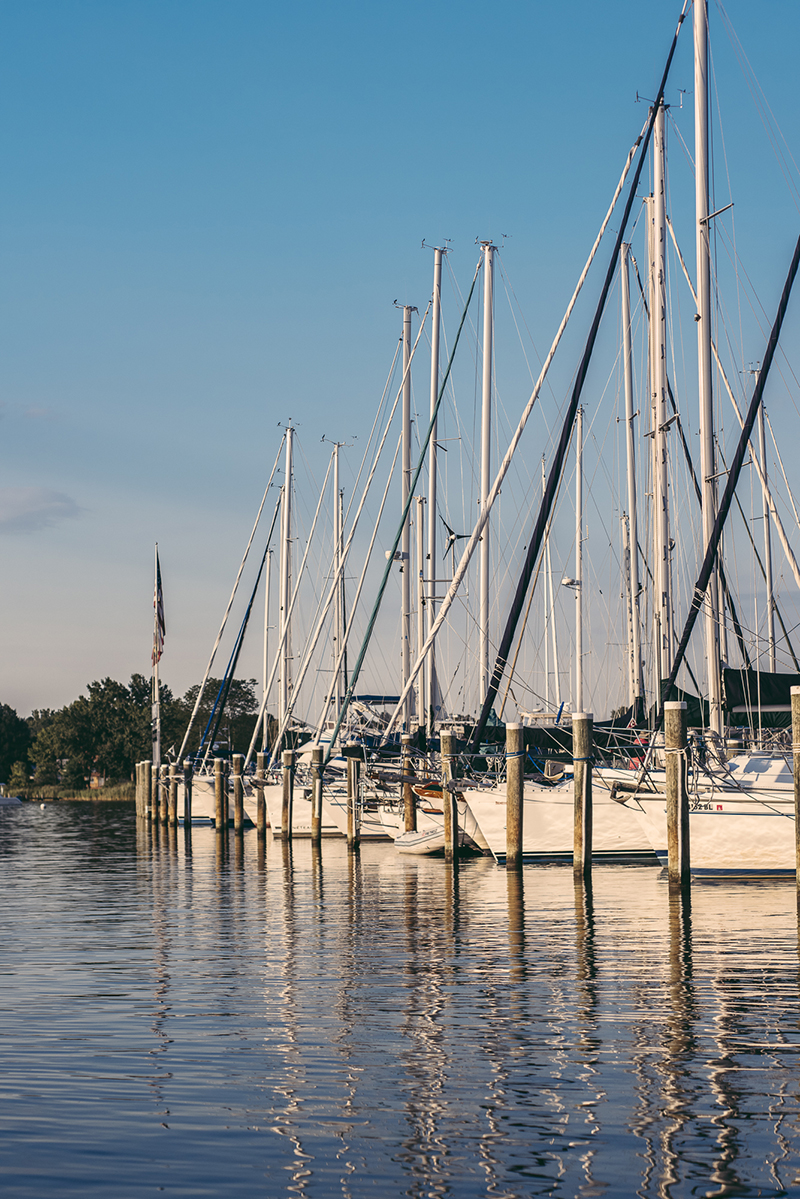 Aside from fabulous culinary offerings, Rock Hall is brimming with high-end, luxury marinas that include Haven Harbour Marina Resorts, consisting of its Haven Harbour Marina and Haven Harbour South locations. These marinas are full-service, boasting 350 floating and fixed deep-water slips, private swimming pools and beaches, complimentary bicycles and paddleboards, Passages Bar & Grill, Admirals Club Beachside Bar, and the nautically appointed 19-room Inn at Haven Harbour.
The pair of marinas are known for their in-house technicians specializing in boat repair, carpentry work, rigging services, electronics and more. Serious boaters will rejoice knowing that these marinas are full-line Yamaha outboard dealers, with stocked marine stores offering everything you may need in the way of boating supplies and maritime gifts.
More than incredible seafood dishes and tasty cocktails, the pair of marinas are known for their service technicians who specialize in yacht work, boat repair, commissioning and decommissioning, as well as carpentry, rigging and electronics. For serious boaters, the marina has a Yamaha outboard motor dealership as well as a Marine Store that has everything you may need in the way of supplies. Both resorts are known for being family-friendly and weddings and events are plentiful at The Inn at Haven Harbour, which has indoor space for 50 and an outdoor event lawn for 300. Pre- and post-ceremony, guests can enjoy the property's manicured gardens, pools and private beach.
For those boating with smaller shipmates, Safe Harbor Great Oak Landing Marina near Chestertown has Kids and Teen Clubs that will keep your kids busy while you explore the marina's 70 acres on Fairlee Creek. The 350-boat slips, 28-room lodge, private beach with firepits and large pool deck are enough to draw you off your stern and into the serene space. The marina also offers golf, fishing and exercise equipment and recently won the Best on the Bay Marina award. That has to be due in part to its live music on the beach all weekend during the season at Jellyfish Joel's 2.0. You can also tie up to floating docs or anchor your dinghy inland. After you've had a couple of tiki drinks at Jellyfish Joel's 2.0, head over to enjoy upscale Chesapeake coastal cuisine at Rockfish Grille before turning in for the evening.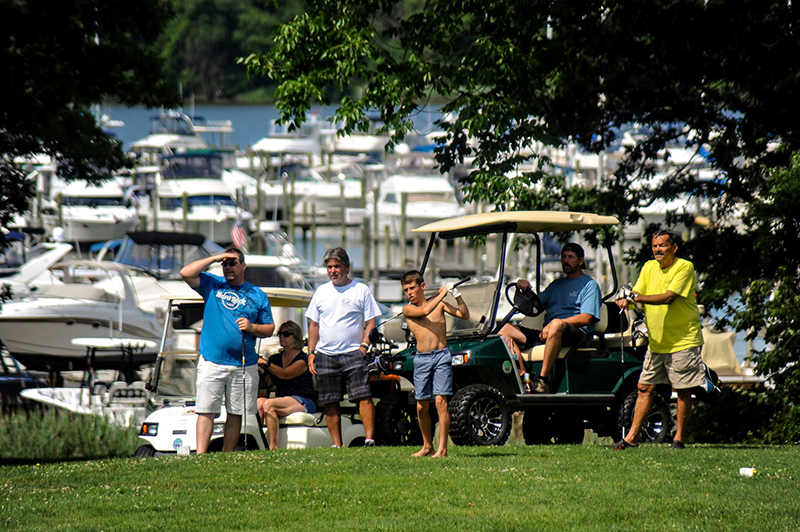 Tolchester Marina, another full-service marina near Chestertown, is set on the Chesapeake Bay. Amenities for slip holders and transients include a private beach, pool and The Channel Restaurant, which is a seasonal hot spot with a reputation for serving the best crab cakes on the bay. Tolchester's The Shanty Beach Bar is known to draw all kinds of boaters every summer with its live, seasonal weekly entertainment and the Shanty Grill's delightful light fare. Tolchester Marina is known for superior services such as a travel lift, mechanical repairs, and repowers by factory-trained mechanics, wood and fiberglass repairs and a fully stocked parts department.
If you're more interested in exploring the Northern Chesapeake Bay along Worton Creek, make reservations in advance or by calling the dockmaster at Worton Creek Marina. Family-owned and operated for several generations, the friendly marina offers free Wi-Fi, laundry services, a picnic area, the marina store for sundries, and covered and open slips available along with a full-service boatyard for repairs. New floating piers each come with a minimum of 30-amp outlets and it's one of the few marinas designated as a Maryland Clean Marina.
Main Street Marina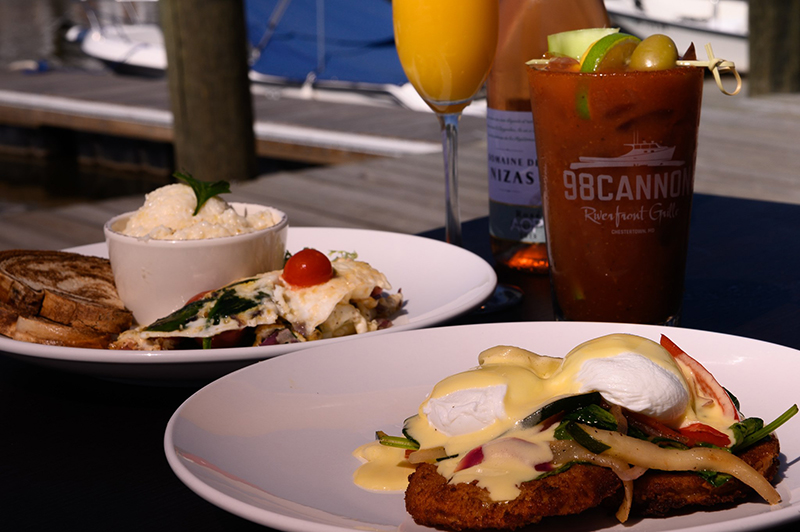 The newly renovated Chestertown Marina is right in historic downtown Chestertown and is one-of-a-kind for the area. If you take one of its 48 slips (it's known for transient T-Head and L-Head dockage for larger vessels) you will be situated perfectly on the beautiful Chester River with the ability to stroll the storied streets of the town. The property is made up of a marina house, a clubhouse with the waterfront 98 Cannon Riverfront Grille (stop in for fried oysters, local Black Angus steak or a fabulous brunch), and 30- and 50-amp outlets. The marina is home to the Sultana Downrigging Weekend Tall Ships festival, which kicks off in late October and early November.
Near the in-town marina, you can stay at the historic colonial White Swan Tavern. About one mile outside of town is the more modern Holiday Inn Express and the elegant four-star bed-and-breakfast Brampton Bed and Breakfast Inn— set on 20 acres of gardens and meadows with whirlpool tubs, fireplaces and flat-screen TVs—are also lovely options to be considered. Great Oak Manor is another elegant four-star bed-and-breakfast with 12 rooms along the waterfront near Chestertown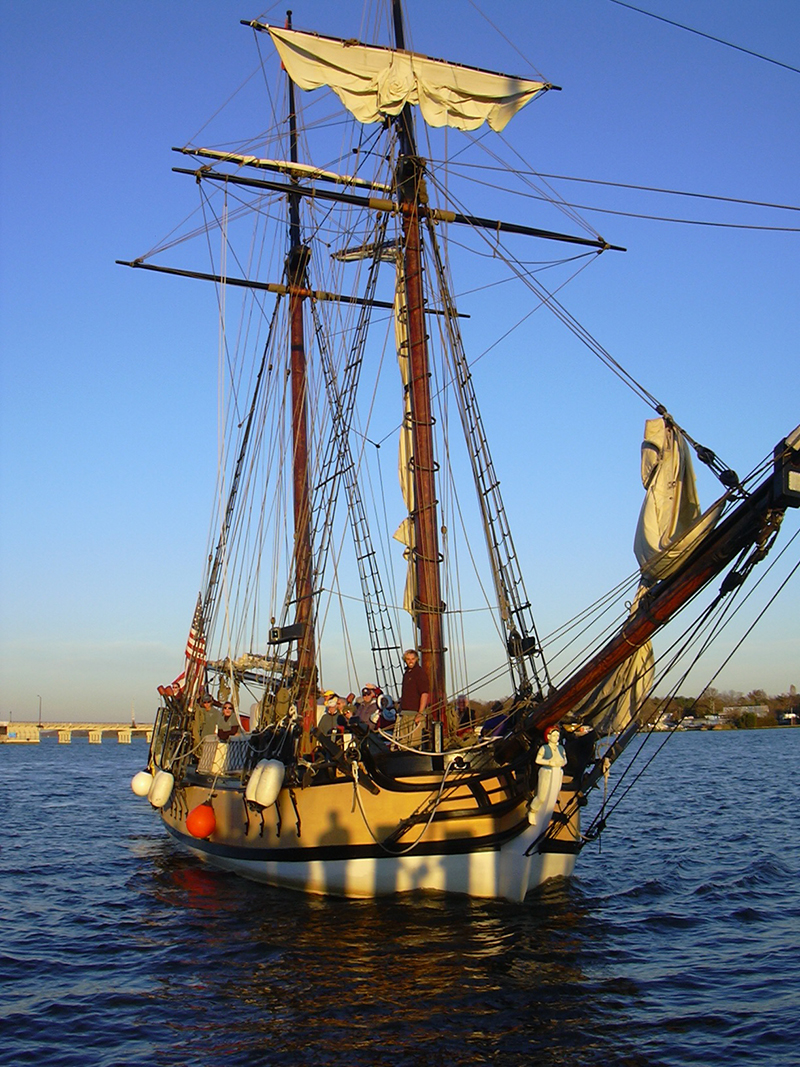 If you are staying on your boat, but exploring Chestertown's culinary offerings, make sure to stop into one of the many local restaurants within walking distance of the marina. You can't go wrong with oysters on the half shell and a great whiskey selection at The Retriever Bar. The Kitchen at the Imperial's water-to-table offerings will make any seafood lover swoon, while Chester River Wine and Cheese Co. is the ideal spot to pick up some fancy fromage, delicate crackers and a bottle of wine and head back to your boat. Restaurants and bars such as Casa Carmen, Evergrain Bread Company, Play It Again Sam, Bad Alfred's Distillery and Figg's Ordinary are all excellent local hot spots as well.
Marinas on Creeks and Quiet Coves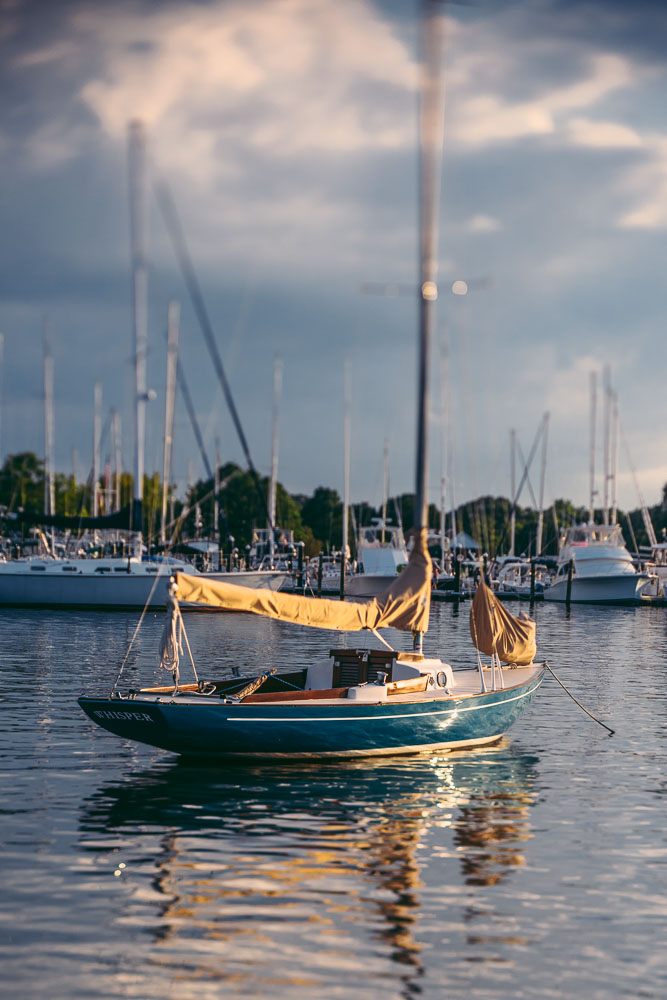 There's something to be said for the Kent County marinas tucked back on calm waters along tidal rivers and in secluded sounds. This smattering of marinas may be out of the hustle and bustle, but their quiet romance and rock-a-bye lulling of your vessel is tough to beat.
A deep-water marina with brand-new docks and 31 slips, Gray's Inn Creek Marina in Rock Hall is family-run and well-protected for boats up to 50 feet long and with 8 feet of water. The docks aren't all that's newly minted, a lovely building with three separate showers and bathrooms are new additions as well. With 50-amp outlets at every slip, laundry services, high-speed Wi-Fi, pump-out facility and "the cleanest potable water in the state at every slip," this may be the spot to drop anchor at the mouth of Herrington Creek.
Another incredible (and quiet) option in Rock Hall is the 112-slip Long Cove Marina, situated on the Chester River at the mouth of Lankford Creek. Mooring and bulkhead slips are available at this off-the-beaten-path marina where you can escape to serene areas. Boats up to 50 feet are welcome with electricity and water at each slip.
Spring Cove has been operating for almost 40 years and caters to slip-holders. Boaters (even catamarans) can rent seasonal dockage from the family-run, 200-slip operation, which has been a certified Maryland Clean Marina since 2001. Docking for the season means you'll find free Wi-Fi, air-conditioned bathrooms and showers, public grills, an in-ground swimming pool, picnic areas, two free pump-out stations, trash removal and more. Aside from those amenities, it is a stunning venue for a wedding or small event.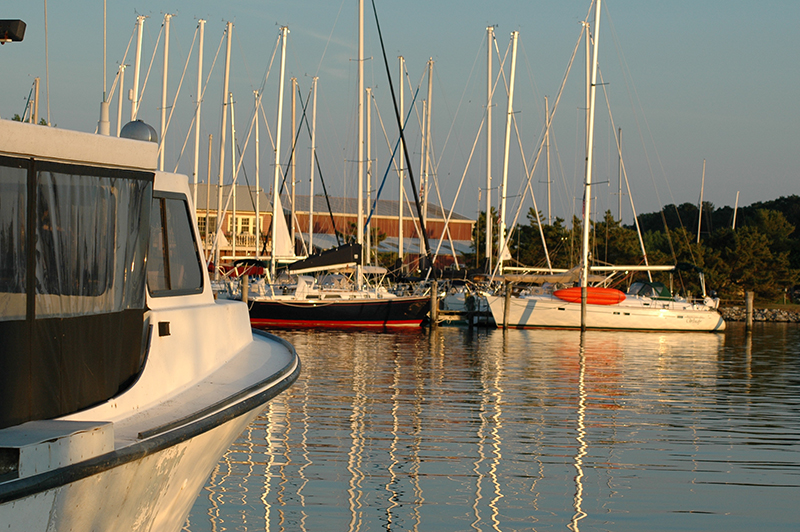 About 5 miles away, in one of the more scenic areas of the Chesapeake Bay, you'll discover Lankford Bay Marina. This equally secluded marina offers deep-water sailing on the Chester River and is known as a naturalist's paradise. Its charming blue structures sit at the junction of Davis and Lankford creeks with a pool, marine store, laundry facilities, showers and more available to both transient and long-term boaters. Deep-water slips and moorings are ready for full-service amenities such as repair services, on-site fueling stations, and winter storage. If you have your four-legged pal, the property is dog-friendly and there are plenty of picnic areas, grills and more for everyone to stretch their legs.
In the Sassafras Harbor sits Georgetown Yacht Basin, Sailing Associates and Sassafras Harbor Marina. Nearby are the Skipjack Cove Yachting Resort and Duffy Creek Marina.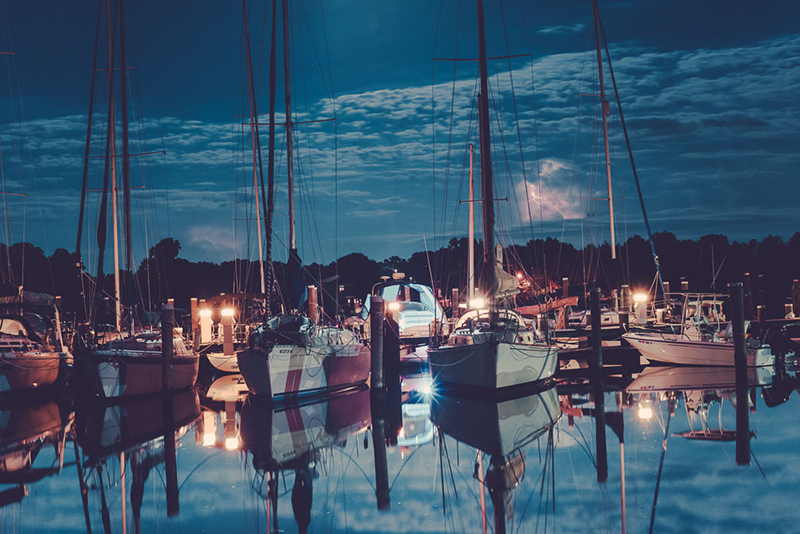 Skipjack Cove Yachting Resort is also located on the serene Sassafras River and is aimed at family-oriented and pet-owning yachters. The quiet marina is 7 miles from the mouth of the river and can accommodate vessels up to 120 feet in both covered and open slips. If you insist on dockside cable TV, water hookups and tiled showers with separate shower heads, you will love this option. The marina's Olympic-sized pool, children's pool and playground are a boon, but its on-site restaurant, Signals Grille and Deck is a delicious place to dine.
With three sides of Kent County surrounded by waterways, opportunities for aquatic recreation on Maryland's alluring Eastern Shore is truly extraordinary. Anchorages, transient docking, and excellent service and support facilities are plentiful throughout the area. And there's no better time to get out on the water and define your own space than now.