Kent County for Art Lovers: Top Cultural Experiences on Maryland's Eastern Shore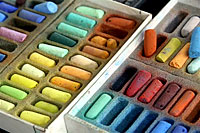 If you're looking for some artistic inspiration, look no further than Kent County, Maryland. Aesthetically speaking, Kent County is a gorgeous waterfront destination—a scenic peninsula on Maryland's Upper Eastern Shore. Artists love to recreate scenes from these quaint waterfront towns and their beaches along the Chesapeake Bay. These small towns are home to thriving arts scenes as well, especially in Historic Chestertown, where galleries fill the first floors of preserved historic buildings downtown. In fact, Kent County has been recognized by the Maryland State Arts Council as one of the significant arts communities in the state. If you're looking for a cool arts destination on Maryland's Eastern Shore, put Kent County on your must-visit list. Here is our guide to the top cultural experiences you can have in Kent County.
Arts and Entertainment District in Chestertown
In 2015, the state of Maryland officially recognized Historic Chestertown with a newly designated Arts & Entertainment District—one of only 23 in the state. Located from High Street to Wilmer Park, the new district is home to a string of galleries and arts venues. Visitors can walk through the charming area full of historic brick buildings and a square with a central fountain to get a sense of the town's architectural beauty.
RiverArts
Located in the new Chestertown A&E District, RiverArts is a cool venue with two galleries that house rotating monthly exhibits. The galleries feature artwork in various mediums such as painting, jewelry, sculptures, photography and furniture. RiverArts is open Tuesday-Saturday, and the first Friday of the month features a new exhibit opening. Complimentary drinks and hors d'oeuvres will be given out while art lovers browse through the new works. Visitors who wish to get creative can enroll in any of a RiverArts workshop (online registration in advance is required) to learn pottery, drawing and painting. Children can join in on the fun as well at KidSpot, a creative space program to engage kids into making art. A gift shop is available on the premises for guests looking for unique items to take home made by local artists.
Garfield Center for the Arts
It's easy to find Garfield Center for the Arts in Chestertown's A&E District with its vintage entrance with decorative theater lights and art-deco style bricks. The multi-use theater stages plays, concerts, open-mic nights, comedy stand up and much more. Located in the heart of the A&E district, the theater also functions as a meetup place for local poets, actors, playwrights, musicians and other artists for monthly gatherings to share ideas, support, and network for the art community. Additionally, festivals are held at the theater such as the Harry Potter Festival, the Chestertown Tea Party Festival and the National Music Festival.
Mainstay
Venture outside of Chestertown to Rock Hall to visit Mainstay, a small concert venue located in a 100-year old building that regularly hosts performers hailing from places like Baltimore, Washington, D.C., Annapolis, Philadelphia and more. The venue is an intimate one—only housing about 120 people—which means great views and a personal experience. Mainstay is a nonprofit with a mission to help promote local artists. Popular music genres often played include folk, acoustics, jazz, blues, classical and bluegrass.
This is just a snapshot of some of the best arts and culture in Kent County. Learn more about the arts in Kent County on Maryland's Eastern Shore here.
---