Kent County for Water Lovers: Top Things to Do on Maryland's Eastern Shore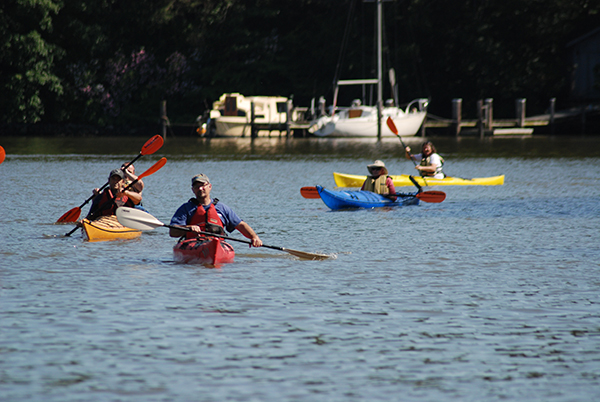 Whether you're looking to hook a rockfish from the rich water of the Chesapeake Bay or paddle down one of its beautiful tributaries, Kent County has everything to pique your interest in and around the water. Home to pristine rivers, picturesque harbors and charming small towns, Kent County is a top vacation destination for water enthusiasts. Get ready to bust out your paddle and fishing rod: Here are the top things to do in Maryland's Eastern Shore for water lovers.
Paddling
Kent County is rich with opportunities to explore the water from a kayak, canoe or paddle board. Visitors who will not be toting their own vessel can swing by either Chester River Kayak Adventures in Rock Hall or Georgetown Yacht Basin in, you guessed it, Georgetown. Both rental facilities are conveniently located by the rivers and offer affordable prices for boat rentals. Additionally, Chester River Kayak Adventures offers full and half day guided tours as well as sunset and moonlight paddle trips. The Sultana Education Foundation is another venue with its own scheduled, themed, paddling tours (early reservation online is required). With a certified guide, paddlers will float by beautiful landscapes of wilderness and riverbanks. Keep your eyes peeled for nesting bald eagles that are known to inhabit the area.
History buffs may want to paddle down America's first national water trail, the Captain John Smith Chesapeake National Historic Trail which traces the routes of Smith's voyages through the Chesapeake Bay and its major rivers. Lore has it that the rivers were the destination where in 1608, the famous explorer John Smith met up with the Tockwogh tribe where he received favorable treatment and lived among them for a brief time.
Paddlers may also be interested in exploring the Eastern Neck National Wildlife Refuge. This wildlife paradise consists of water routes that will offer you the opportunity to see a variety of animals in their natural habitat including more than 240 species of birds, as you circumnavigate the island on your boat.
Restaurants on the Water
What's a more perfect outing than dining at a waterfront restaurant? In Kent County, there's no shortage of dining establishments where you can enjoy a delicious meal with a scenic view of the water. Consider Waterman's Crab House in Rock Hall with a wide outdoor deck overlooking the water. You can arrive by boat or by car to enjoy the famous Chesapeake Bay Blue Crab. Other places to consider in Rock Hall are Harbor Shack for Mexican-infused seafood (think margaritas on the deck) and Osprey Point, a fine dining restaurant offering a fresh seasonal menu in a Colonial-style bed and breakfast facing the water.From the deck of The Wheelhouse, you'll see waterviews of Swan Creek and beautiful sunsets, while enjoying their amazing crab cake cooked from a family recipe in a cast-iron skillet.
In Chestertown, Kent County's largest town, waterfront dining can be found at 98 Cannon, an ideal location for watching boats pass by from the deck while enjoying everything from seafood plates to mouthwatering burgers. Or you can venture north to Georgetown for a stop at the Fish Whistle at the Granary or Kitty Knight and enjoy beautiful sunsets along with an eclectic offering of delicacies from land and sea.
Open Air and Deck Bars
If a cocktail served with a fresh waterfront breeze and warm sunshine are ingredients in your recipe for relaxation you must visit one of Kent County's Open Air or Deck Bars. Rock Hall's own Waterman's Crab House and Harbor Shack. If you are visiting Chestertown you can settle in on the deck at 98 Cannon Riverfront Grille while the Chester River lulls you with its serene beauty. Finally, if a beach bar is more your speed you can find your haven at the Shanty Bar at Tolchester Marina and Jellyfish Joel's at Great Oak Landing. Be sure to check restaurant websites for information about seasonal live music and special events ideal for helping you to achieve the ultimate state of relaxation while visiting Kent County.
Boating
When not kayaking or paddling, you can kick back and enjoy the good life from the comforts of a charter boat. From April to October you have the opportunity to make a reservation for a 90-minute boat tour or sunset cruise with Blue Crab Charters. These cruises will depart from Waterman's Crab House and will allow you to watch the harbor get smaller as you sail on the serene waters of the Chesapeake Bay. Visitors may also be interested in making a reservation with Shardana Sailing where guests will be pampered while exploring Kent County from the water. You can also check out the Chester River Packet Company, where guests can enjoy a relaxing sail from the comforts of an indoor lounge room with a fully stocked bar. Head up to the top deck and grab one of the chairs to watch the sunset. Other places worth checking out for boat tours are Captain John's Sassafras Adventures and Callinectes.
Looking to ride on a schooner? Kent County is home to Schooner Sultana 1768, a large replica of a Boston-built British Navy Ship. While on the boat you will have the opportunity to learn about both this historical region and the history of the schooners.
Already a seasoned boat driver? Just rent the boat of your choice from The Landings and manage the helm while your group kicks back and admires the view. You can also explore your boating options with Haven Charters in Rock Hall and Eastern Neck Boat Rentals.
Have you always wanted a lesson in the art of boating? Kent County has several schooling options for visitors to choose from including the Maryland School of Sailing, Chester River Yacht & Country Club, Georgetown Yacht Basin, and Rock Hall Yacht Club Sailing School.
Fishing
Your love of the water may come with a love of fishing. If this is true Kent County is an ideal destination for you! Amateurs and experts alike can fish with the help of licensed fishing captains. If you prefer to fish independently, there are many fishing locations throughout Kent County, including spots around the Eastern Neck National Wildlife Refuge the Chesapeake Bay and its rivers and many creeks. Fishing from shore is fun too. Here are a few of the local's favorite spots: The Chester River Bridge, The Sassafras River Bridge, Eastern Neck Island bridge, Wilmer Park, and Turners Creek Landing.
Beaches
While Kent County is predominately known for its picturesque harbors and waterfront restaurants, it's also home to two designated beach areas. In Rock Hall, beachgoers can enjoy the charming strip of beach that overlooks the Chesapeake Bay. Complimentary picnic tables and barbecue grills are available for beachgoers to use at their convenience. For another option, swing by Betterton Beach, just 15 miles from Chestertown. Originally a fishing village, Betterton and its handicap accessible beach are home to 500 feet of boardwalk and a relaxing picnic pavilion located on a bay view bluff.
---