Paddling the Historic Water Trails in Kent County, Maryland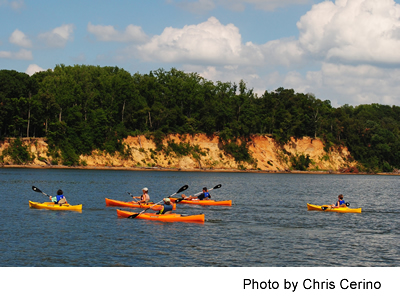 The first river you paddle runs through the rest of your life. It bubbles up in pools and eddies to remind you who you are.
~ Lynn Culbreath Noel
When seen from above, waterways resemble Mother Earth's arteries, delivering sustenance throughout the land. Look at a map of Kent County, Maryland and you'll immediately see the plethora of arterial canals that feed this vibrant area. From freshwater rivers and streams to saltwater inlets and bays, paddling enthusiasts know these channels deliver many gifts to those who go with the flow.
Two hundred years before Meriwether Lewis and William Clark made their westward expedition, John Smith charted the waters around the Chesapeake Bay, mapping an estimated 3,000 miles, known today as the Captain John Smith Chesapeake National Historic Trail—an all-water trail system within the National Park Service. Discover two of those trails, the Chester River and Sassafras River water trails, when you visit Kent County.
Sassafras River Water Trail
This 20-plus mile, east to west running river, defines the northern boundary of the county with its shallow headwaters originating near the town of the same name. Start at the Foxhole public landing to enjoy the tranquility of the heavily wooded and narrow route. As you row between the dense foliage on either shore, imagine the encounters Smith had with the Massawomeck and Tockwogh tribes when he mapped the waterway more than 400 years ago.
Further downstream, Turner's Creek includes park facilities for throwing horseshoes or playing a friendly game of volleyball; there is also a concrete ramp there. The neighboring Sassafras Natural Resource Management Area offers trails to explore when you need to stretch your legs, and the natural sandy beaches along the shore are great places to swim and enjoy a picnic lunch. The area is famous for its lotus blossoms during July and August (and sometimes into September).
As the river nears its confluence with the Chesapeake Bay, steep bluffs stretch skyward and bald eagles can often be seen soaring overhead. The Town of Betterton has a concrete ramp, and after a day on the water, Betterton Beach is a beautiful place to relax, watch the sunset over the bay and reflect on your adventure.

Chester River Water Trail
Tracing the county's southern border is the longer Chester River, which is 40-plus miles from Millington to Rock Hall, with numerous creeks branching out to add up the paddling mileage.
Though Smith only visited the river's mouth and did not chart its course, a variety of public landings along the river and creeks make it convenient for you to explore.
As the tides roll in, pick up where Smith left off and paddle upstream from Chester's 3-mile-wide mouth south of Rock Hall. Venture into Gray's Inn or Langford creeks, each with three public landings. Or, if you'd prefer to leave the logistical planning to the experts, Chester River Kayak Adventures offers many half-day and full-day guided tours of this area. The guides will point out notable landmarks and help you sight wildlife along the way.
About halfway up the river, the historic community of Chestertown provides a quaint glimpse of history. A major shipping port from the early 1700s, the town banned the buying, selling and drinking of tea in protest to the British Tea Act. Paddling along Chestertown's majestic waterfront, you'll parade past stately, colonial riverfront homes and elegant sailboats, including the regal SULTANA, a reproduction of the Royal Navy schooner that patrolled the coastline.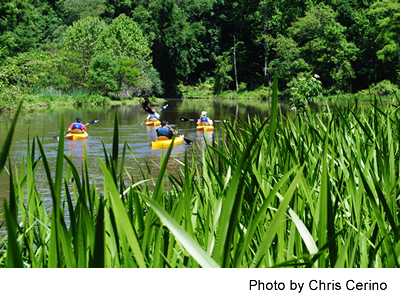 For only $30 per person, the Sultana Education Foundation offers fully outfitted, small Public Paddles group tours for all skill levels. Expert naturalists guide groups via kayaks to various locations throughout the Chesapeake to view wildlife like herons, bald eagles, ospreys and turtles; historic locations and ancient Indian ruins; and lotus blooms, salt marshes and tidal creeks. There's even a moonlight paddle. Check its Public Paddles Calendar for up-to-date itineraries. Don't forget to pack the binoculars.
Downstream from Chestertown's High Street public landing, just past the Chester River Yacht & Country Club, you'll encounter an Oyster Recovery Area. Established in 1996 through a partnership with numerous organizations, the sanctuary restores oyster populations and creates vital habitat for fish and crabs.
As with its northern neighbor, the upper Chester River is narrow and heavily wooded as it winds its way downstream from Millington toward Crumpton. The best load-in will be Shadding Reach Landings' soft launch, and if the wind cooperates, paddling upstream should be a breeze. Too shallow for most motorboats, this bucolic stretch gives its paddlers the gift of peaceful reflection as its glassy waters become a mirror for the skies. Glide along the verdant shoreline to observe waterfowl and the occasional deer visiting its favorite watering spot; sit back and watch hawks and eagles soaring overhead; and enjoy the solitude and the inner reflection it brings.

On an island at the southern tip of Kent County where the Chester River meets the Chesapeake Bay, this wildlife sanctuary provides nearly 2,300 hundred acres of habitat for native and migratory birds as well as mammals, amphibians, reptiles, insects and invertebrates both in and out of the water. Launch your craft at the end of Bogles Wharf Road for the 10-mile Island Water Trail circuit. But first, stop at the Visitor Center Bookstore and pick up a waterproof floating map to guide you to seven points of interest—from historical to ecological. Use special caution while transiting the Bayside shores as currents, tides and winds can be challenging.
As Pierre Trudeau said, "Paddling a canoe is a source of enrichment and inner renewal." So, get out on the water and start dipping your oars.
Find everything you need at KentCounty.com including rentals and guides, and if trailering your rig, be sure to order a permit to use the public landings.