Summer Camping at Kent County's Exclusive Bayshore Campground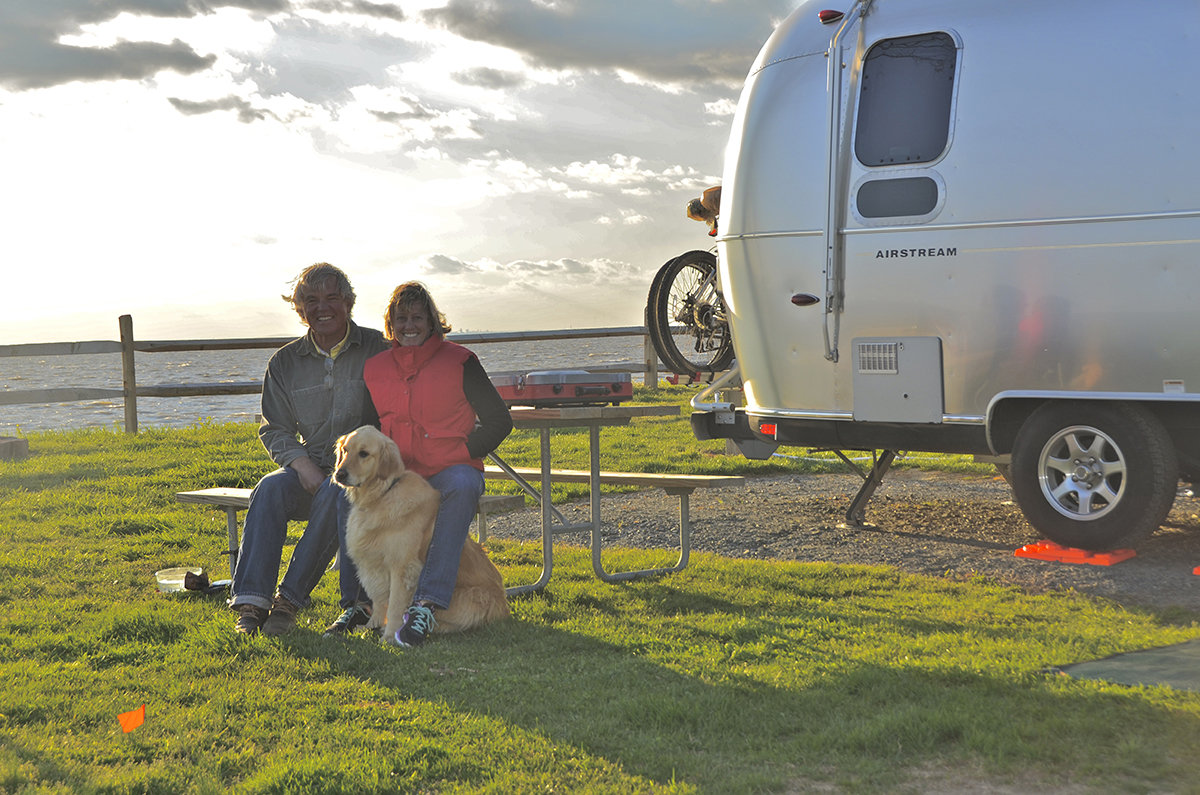 The sun lingers in the evening sky—glistening pink and gold on the glassy Chesapeake Bay. The fresh campfire crackles with excitement. Soon, its embers will sizzle with patties and franks. Here's to summer—when even the sun wants the day to last forever.
Unwind
Whether glamping with an RV or getting back to basics with a tent, camping is a naturally rewarding pastime. This summer, escape the hustle and bustle of the city and return to a place of simplicity at Bayshore Campground, the only designated campground in Kent County.
Surrounded by farmland, this exclusive property cozies up to the wide-open expanse of the Chesapeake Bay. "It's like being in the country while at the beach," said Meagan Wick, co-owner of Bayshore Campground. "You've got these cornstalks behind you, but you're looking at this water in front of you. It's very unique."
Meagan's husband, Fred, grew up in Kent County and was an avid hunter for waterfowl on the Bayshore property. In 2004, the previous owners approached him with an offer to purchase the campground. Never having camped a day in his life, he transitioned from operating a 750-acre nursery farm, to running a one-of-a-kind campground.
Fred's horticultural background continues to flourish on his beautifully landscaped campground, and the Wicks continue to farm a majority of the property's 60 acres.
"The campground really, truly is a way to connect back to nature," said Wick. "It's like my kids are growing up in the '70s. I'm ringing the dinner bell as they're running around. It's almost like a step back in time, but without all the '70s hair and bellbottoms."
You won't find any '70s disco balls here either.
"We really pride ourselves at this campground for being a tranquil, quiet, peaceful and family environment," says Wick. "You can hear the crickets and the bullfrogs more than you can hear people."
Celebrate
While it may be quiet and serene at Bayshore, on Independence Day, there's plenty of booming fun to be found in Kent County, Maryland. The festivities begin a few days prior to the fourth with the Rock Hall Beach Party. This is followed by the annual Waterman's Day—a lively celebration of the town's connection to the waters that surround it held the Sunday before the Fourth of July. On the evening of July 3rd, the sky over Rock Hall glows with fireworks. Viewing for this experience is ideal from the bulkhead on Bayside Avenue in Rock Hall. Kent County's celebrations culminate on the fourth with Rock Hall's annual Independence Day Parade. Visitors hoping to experience the celebration from the shoreline of Bayshore Campground will be delighted by lively displays from across the Bay in various locations on the fourth.
Later in the summer, Rock Hall continues the revelry with its raucous Pirates & Wenches Fantasy Weekend, where costumed buccaneers swarm the port for this multiday celebration of everything "yo-ho-ho." Dress the part and practice your pirate speak to look and sound like a real pirate, or embrace the landlubber in ye and let the scalawags run away with the booty. Regardless of how much or how little you participate, this event is worth venturing out to explore.
Plenty of people come to Kent County for the pirating; more come for the crabbing.
"We're the crab mecca," said Wick. "Stick a chicken neck in a pot, stick it out in the bay or the river, then come back and check on it later."
If your crabbing skills fall short, buy a bushel (in season) from Chester River Seafood or Ford's Seafood, or maybe you'll get lucky and your campsite neighbor will invite you to their crab feast.
Bayshore Campground's on-site boat ramp gives campers easy access to the Chesapeake Bay, while the county's 17 marinas offer plentiful services for visitors who arrive with boats and rentals for those who don't. Unaccustomed to navigating the waters? Consider booking a trip with one of the Fishing charters in Rock Hall's fleet. These charters will take you where the action is, and help you catch your dinner! Hoping to spend your time on the water taking in the sweeping river and bay views, sailing charters can show you the ropes. From Rock Hall, Blue Crab Chesapeake Charters and Shardana Sailing both accommodate up to six passengers on their 43-foot sloops. You can also tour the Chester River on the historic schooner SULTANA, or enjoy a cruise with the Chester River Packet Company.
With the money saved by camping, charter tours and special dinners suddenly become affordable. As Wick puts it, "Campers have more ching to go out and spend money elsewhere, parlaying it into a really nice meal or extra activities around the destination."
Eat
Get a taste of Rock Hall's area eateries. Enjoy fresh seafood at Waterman's Crab House, then browse its gift shop and stroll the docks; on weekends, get your groove on as musicians take the stage. Likewise, Harbor Shack, a local waterfront favorite, sets the tone on Saturdays with live music, great views of the bay and an extensive menu to satisfy every palate. Meanwhile, Osprey Point Restaurant serves everything from mouthwatering burgers to gourmet seafood dishes. Have a sweet tooth? Don't miss Sweet Cheeks Delightful Treats and Get the Scoop delicious stops ready to make your mouth water with their delectable delights.
Thirsty? Sip award-winning wines in the tasting room at Crow Vineyard & Winery in Kennedyville. Buy a bottle of vino and a cut of its grass-fed Angus beef for your barbie by the beach. Grab a bottle of small-batch brandy, rye, gin or grappa from Bad Alfred's Distilling in Chestertown to share with your Bayshore neighbor—the one who invited you to their crab feast.
Explore
"All of my customers explore the area. Even in a mobile home, they'll rent a car. There's no traffic here. It's very easy to get to everything," said Wick.
Though, if you prefer to peddle the country roads, Eastern Neck National Wildlife Refuge is just 3 miles south. Explore 2,285 acres of unspoiled wildlife habitat—home to more than 250 bird species, amphibians, reptiles and mammals. Watch swarms of colorful butterflies fuel up in the gardens and witness fledgling ospreys and bald eagles test their wings during the summer.
Yet, you don't have to leave Bayshore Campground for these sights.
"It's not unusual to see a bald eagle fly over the campground," she said. "Ospreys come back every year and build their nest at the end of my driveway. We have this duck, Gloria. Every year we watch her baby ducklings be born."
Wild animals aren't the only visitors reappearing at Bayshore. Fred and Meagan admit many campers are sad to leave, so it's rewarding to see the same campers return.
Fred recalls one couple in particular: They came to enjoy the husband's final summer—he had recently been diagnosed with terminal cancer. Yet every season for the past four years, they've returned—crediting his full remission, in part, to the beautiful, low-stress sojourns they enjoy on the banks of the Chesapeake at Bayshore Campground.
Ready to unplug and make the most of your summer? Plan an exclusive camping getaway to Bayshore Campground in Kent County. The warm, sunny days won't last forever, but the memories sure will.