Where to Enjoy Wine and Spirits in Kent County, MD
Kent County, Maryland lies on the scenic Chesapeake Bay peninsula less than a 2-hour drive from Philadelphia, Washington, D.C., Annapolis and Northern Virginia. This historic town, known for quaint shops and restaurants, charming tree-lined streets and sweeping water views is home to distinguished wine and spirit purveyors.
While exploring the Chesapeake Bay and its tributaries is a well-known highlight for visitors to Kent County, one of the best ways to get a true taste of this destination is to check out the local wineries and distillery. The Chesapeake Wine Trail winds gracefully through the Chesapeake Bay Peninsula, arriving in Kent County at Crow Vineyard and/or Lands Point Winery & Vineyard. Chestertown's historic district offers visitors the opportunity to expand beyond typical wine tasting in the region. Casa Carmen Winery, a boutique winery dedicated to crafting premium local, dry wines is operated by siblings from Ecuador. Also, at Bad Alfred's Distillery, guests can opt to try small-batch vodka and gin. This waterfront destination, known for the Chesapeake Bay Blue Crab offers more than just local fresh seafood. Its collection of wine and spirits offers you a new way to experience Kent County.
Local Wine & Spirits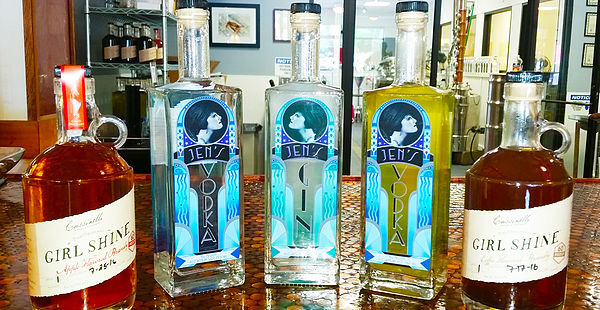 In Chestertown's historic district, Bad Alfred's Distillery crafts premium small-batch vodka and gin. Here you'll find whiskey made from locally sourced corn and grape-based brandy. Visitors can watch the distilling process and taste the results, fresh from on-site stills. Additional offerings inside the company's tasting room include Cassinelli wines produced since 2007, plus sangria or cider by the glass. A small tasting fee buys a delicious introduction to Cassinelli's best products.
Also in downtown Chestertown, Casa Carmen Winery is a boutique winery dedicated to crafting premium local, dry wines in an artisanal Old World-style. The tasting room, also serving tapas, was crafted in the spirit of traditional wine bodegas of Spain and South America. The winery, located on the Chesapeake Wine Trail is a short 5-minute drive from downtown Chestertown.
For a more rural wine tasting experience, Crow Vineyard & Winery is just minutes from historic Chestertown on Maryland's Upper Eastern Shore. Grapes that are grown here reflect the local terroir, as well as the family's hands-on operating style and its environmentally friendly practices. Featuring products grown here on the Eastern Shore of Maryland, Crow Vineyard is truly offering its patrons the unique experience of tasting the land that they are exploring.
Lands Point Winery is a small batch, family-owned winery producing dry red and white wines from grapes grown on site. They offer wine tastings indoors in their "Big White Dog" tasting room and outdoors, weather-permitting, at various scenic venues on the historic waterfront farm. Being one of the few wineries accessible by boat on Maryland's Eastern Shore, a unique experience tasting wine and exploring the waterfront farm are an afternoon to be remembered.

The Chesapeake Wine Trail
Crow Vineyard & Winery and Casa Carmen Winery in Kent County are two of more than 15 premiere wineries operating throughout the Chesapeake Bay peninsula, in Maryland, along the Chesapeake Wine Trail. The Trail, which is part of the larger Vintage Atlantic Wine Region, is a popular, self-guided tour with stops featuring wine tastings, winery tours and gift shops.
Casa Carmen Winery offers an opportunity to experience the crafting of premium wines in an artisanal Old World-style. The winery is located on a farm just 5 minutes from downtown Chestertown. The founders, siblings from Ecuador, have lived in notable wine regions internationally and have been able to turn family traditions into an operation where visitors can sample wines at the tasting room but also enjoy the wines as members of the Wine Club.
Crow Vineyard is a special stop. This is a grape-to-bottle operation, which the Crow family provides as a service to other regional winemakers. Among their selection of eleven award-winning wines, guests will be delighted to find a Sparkling Vidal. Crow is currently the only vineyard on the Eastern Shore of Maryland producing sparkling wine. On weekends, visitors can sip various vintages in the wine tasting room, and even pair them with samples of the farm's natural, grass-fed beef or other farm-grown items.
At Crow Vineyard, you can choose to relax for an afternoon, enjoying any of their award-winning wines including their Rose' or Sparkling Vidal Blanc in the tasting room (a converted former milk house on the farm) before traversing further along the wine trail. Then again, for an extended retreat, you could consider staying overnight at the Crow Farm Stay B&B. Crow Vineyard is located in a rural setting on a 365-acre farm in Kennedyville, where Angus cattle graze on the farm and rows of growing grapes adorn the fields. The vineyard's main 1847 farmhouse is a rustic retreat with three rooms for overnight guests. You may also choose to stay in the two-bedroom farm stay cottage that has a full kitchen and private bathroom. Days on the farm include wine tastings and vineyard tours, of course, but you can also help with harvesting, take a walk along the 2-acre pond, play horseshoes in the yard, and enjoy picnics under the farm's willow trees.
Lands Point Winery offers a unique waterfront, boat accessible wine tasting experience on the banks of Worton Creek. This Winery, just minutes from downtown Chestertown, is a small family-owned craft winery producing dry wines reflecting their unique Eastern Shore terrior from grapes grown on site. The first time the grapes leave the farm is when a customer takes home a bottle of wine. The tasting room also offers several light fare choices to enhance your tasting experience.
Wine, Cheese & More
Located in the Arts & Entertainment District of Chestertown, Chester River Wine & Cheese Co. provides a different kind of Kent County wine experience. Sample international and domestic wines alongside boards of cut-to-order cheese, and then let the shopping begin. This is a terrific spot to purchase dozens of premium cheeses, gourmet jams and mustard as well as premium olive oils and vinegar both from the region and beyond. Or buy gadgets for entertaining such as fondue sets and wine bottle openers. Love pate and cured meats? You'll find them here. Appreciate fresh antipasto? Chester River Wine & Cheese Co. has you covered.
There's a lot to like about Kent County, Maryland where you can explore the delicate art of creating noteworthy wine and spirits while discovering a rural landscape known for producing rich harvests that draw the attention of vintners and distillers alike. To learn more about this beautiful area, visit http://www.kentcounty.com/.
---