The spirit of the holidays can be found all over Kent County.
Join us in celebrating this festive season.

---
RiverArts Holiday Sale
November 18, 2021 - December 23, 2021
Thursday, November 18 through Thursday, December 23, 2021
Location: 315 High Street, Chestertown
Opening reception on November 28, 201 at 5 pm. Show and Sale through December 23, 2021. A wide variety of items are available for purchase.
---
Emmanuel Church Annual Christmas Bazaar
November 20, 2021
Saturday, November 20, 2021 | 8:30am - 2pm; Lunch 11:30 to 1:30
Location: Emmanuel Episcopal Church, 101 N. Cross Street, Chestertown
Admission: Free
A variety of holiday items for sale, including Elegant Elephants, Botanical Delights, Gourmet goodies, Holiday ornaments, Jewelry and more. All proceeds go to local charities.
---

Santa's Arrival & the Lighting of Chestertown
November 26, 2021
Friday, November 26, 2021 | 6 pm - 8 pm
Location: Fountain Park, Chestertown
Welcome Santa back to Chestertown by firetruck to Fountain Park. Kids can meet with Santa at a safe distance and get their pictures taken. The Fountain Park Christmas Tree will be lit to pen the holiday season.
---

Christmas Parade


November 27, 2021
Saturday, November 27, 2021 | 10 am
Location: High Street, Downtown Chestertown
Kick-off the holiday season with Chestertown's annual Parade! One of Kent County's favorite holiday traditions! Line up on High Street to see all of your favorites ring in the holiday season. The annual parade will begin at Dixon Drive and commence at the intersection of High and Spring Street. Enjoy marching bands, classic automobiles, floats and your favorite holiday characters.
---
Rock Hall Hometown Christmas


November 27, 2021
Saturday, November 27, 2021 | 11 am
Location: Main Street Rock Hall

Carriage rides will be available throughout the day with the following guidelines:
Riders will be required to social distance while standing in line, wear masks, and ride in family groups.
Each family will be required to provide their name and address.
The carriages do not have seats facing each other and they will be sanitized after each ride.
Come and enjoy the Christmas festivities in Rock Hall. Main Street shops will be hosting mini-events and open houses. There will be plenty of family-friendly activities at Bayside Landing Park to do and in Rock Hall for the start of the Holiday Season!
---
The Garfield Center for the Arts features "Shrek: the Musical"


December 3 - 19, 2021
December 3 - 19, 2021; Fridays 8pm | Saturdays 8pm | Sundays 3pm
Location: Garfield Center for the Arts, 210 High Street, Chestertown
Take a break from the holiday bustle and enjoy a classic at the historic Garfield Center for the Arts in downtown Chestertown.
*Online ticket sales end 3 hours before an event. Tickets may still be available at the door. Call the Box Office at 410-810-2060 to check on ticket reservations.
---

A Dickens of a Christmas Weekend


December 3 - 5, 2021
December 3- 5, 2021
Main Street Chestertown presents "A Dickens of a Christmas" celebration with live outdoor music performances throughout the historic downtown. Please practice social distancing.
As an arts-rich community with strong literary, musical, and theatrical talents, Chestertown invites visitors to enjoy a memorable weekend filled with authentically themed holiday fun. The charm of our historic 313-year-old river town will be the backdrop to a lively display of Dickens-era holiday attractions: carriage rides, street theater, live music, food vendors, decorated house tour, and more!
For full schedule and more information visit https://mainstreetchestertown.org/dickens/.

---
Festival of Trees Weekend
December 3 - 5, 2021
Friday, Saturday, and Sunday, December 3 - 5, 2021 | 10 am - 5 pm
Location: Chestertown
Welcome the beginning of the Christmas season with Soroptimist International of Kent & Queen Anne's Counties partnered with First United Methodist Church to present the Festival of Trees. This is a community event that allows all ages to visit a display of trees decorated by businesses, organizations, as well as families. It's a way of saying "thank you" to the community for helping Soroptomist with the betterment of women and girls. For more information on how to donate a decorated tree, please contact Vickie pepper1999@verizon.net or Louise weasie100@yahoo.com.
---
Deck the Hall, Town Hall
December 4, 2021
Saturday, December 4, 2021 TBD | 6 pm
Location: Main Street Galena, Galena Town Hall
For more information call Galena Volunteer Fire Co.
Come to the Town of Galena to share in the spirit of the Christmas season. Santa and Mrs. Claus will be visiting Town Hall. Come visit to tell Santa what's on your Christmas list and enjoy holiday cookies and hot chocolate.
Mayor Carroll will do a Facebook "drive through Galena" to share the lights of the season on the hunt for the following categories: Best overall display, most colorful display, best traditional Christmas display, best business display and best "Griswald" Christmas display. Feel free to load the family van and do an "in-person" drive-through to experience the holiday lights firsthand.
---
Santa Arrives by Boat and Crab Basket Christmas Tree Lighting
December 4, 2021
| 6:00 pm
Location: Town of Rock Hall - The bulkhead for Santa's arrival, Main Street Rock Hall for the tree lighting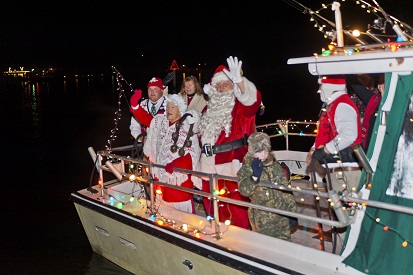 Christmas festivities kick off in Rock Hall with the arrival of Santa and Mrs. Claus by boat followed by a parade of boats all at the bulkhead at 6:00 PM. The Community Band will be on-hand to entertain - both at the bulkhead awaiting Santa's arrival and on Main Street. Santa will travel by firetruck to Main Street to officiate the lighting of Rock Hall's Crab
Basket Christmas Tree featuring several hundred decorated baskets in memory/honor of loved ones.
Following the tree lighting, enjoy tasty smores roasted over a community firepit and follow Santa and Mrs. Claus to "Santa's House" in the Visitor Center for children to make their Christmas wishes.
---
Harp & Soul - Meredith Hadaway and Friends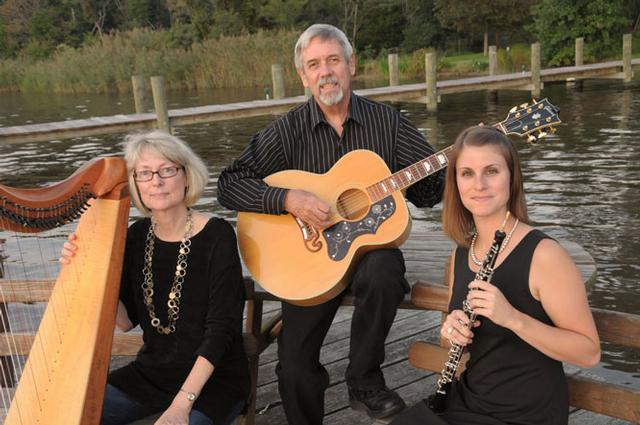 December 12, 2021
Sunday, December 12, 2021 | 4 pm
Location: The Mainstay - 5753 Main Street, Rock Hall
www.mainstayrockhall.org
$20 online and $25 at the door/by phone
Celebrate the Songs for the Season with the lovely and lively traditional songs, dance tunes & carols from the British Isles, Celtic lands & beyond. The core group of Meredith Hadaway (Celtic harp & concertina), Ben Bennington (guitar & vocals) and Rebekah Hardy (oboe) will be joined by their special guests Sue Matthews (vocals), Bob Ortiz (percussion), Nevin Dawson (viola) and singer and songwriter Pam Ortiz who will add some of her originals to the mix as well as adding her voice to the group. This will be an afternoon of delightful and unusual songs for the season and lots of holiday cheer.
---
New Years Eve Potluck at The Mainstay with Joe Holt at the Piano
December 31, 2021
Friday, | 5 pm
Location: The Mainstay - 5753 Main Street, Rock Hall
Ring out 2020 at a Mainstay Potluck with the dynamic Joe Holt at the piano. Bring a dish to share with the group and fill up on good cheer and good food. The bar in the Byrd Room will be open and serving holiday favorites. Doors open at 5 pm, and Joe will serenade attendees as they dine.