Visit Kent County for the Holidays!
The spirit of the holidays can be found all over Kent County. Craft shows and fairs, holiday concerts, parades and house tours are just a few of the many events happening this holiday season in Kent County. Join us in celebrating this festive season.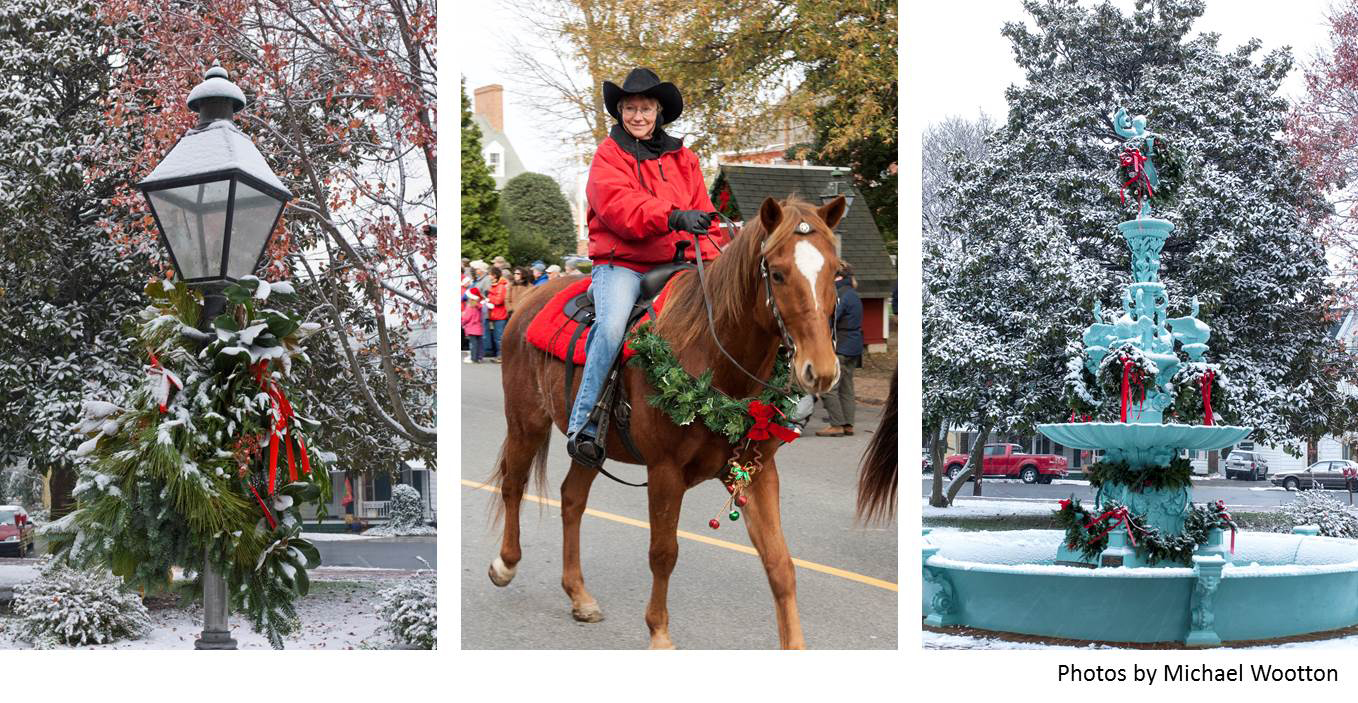 ---
Emmanuel Church Annual Christmas Bazaar
Saturday, November 18, 2017 | 8:30am - 2pm
Location: Emmanuel Episcopal Church, 101 N. Cross Street
Entrance is free. Silent auction, Collectibles, Hand knitted items, Pre-owned jewelry, Plants, Christmas and Thanksgiving decorations, Gourmet goodies. Lunch 11:00 to 2:00. The Preview Party will be Friday, November 17, 5:30 - 7:30 p.m. Tickets for the Preview Party are $15 and include delicious hors d'oeuvres and beverages.
---
KART Antiques Show
November 24-26, 2017
Location: Washington College; Johnson Lifetime Fitness Center 300 Washington Ave.
Annual antiques show and sale benefiting Kent Association of Riding Therapy, an organization supporting special needs children and adults through horseback riding therapy. The Antiques Show includes many long-time favorite dealers consistently offering quality antiques, furnishings, accessories, art, jewelry, period pieces and silver. $8 Admission. Free parking
---

Santa Arrives in Chestertown
Friday, November 24, 2017 | 6:30pm
Location: Fountain Park, Chestertown, Maryland
The Kent County Community Marching Band will herald the arrival of Santa with classic holiday music, while Chestertown's Historic District comes aglow with twinkling holiday decorations. A family favorite!
---
Christmas Parade
Saturday, November 25, 2017 | 10am
Location: Downtown Chestertown, Maryland
Kick off the holiday season with Chestertown's annual Thanksgiving Weekend Parade! One of Kent County's favorite holiday traditions! Enjoy marching bands, floats, and your favorite holiday characters.
---
Chestertown's 1st Fridays
Friday, December 1, 2017 | 5 - 8pm
Location: Downtown Chestertown, Maryland
Take a break from the hustle and bustle of the holiday season by visiting Kent County during December's First Friday in Chestertown. Meander the red-brick, tree-lined sidewalks of this historic city and explore the beauty of its dynamic Arts and Entertainment District. Check off your holiday shopping list while enjoying extended shop hours throughout downtown.
---
Holiday Shop and Dine Local
December 1-3, 2017
Location: Rock Hall, Maryland

Rock Hall welcomes you to enjoy extended hours at stores and shops throughout the town. Many businesses will be offering holiday discounts and specials to help kickstart this busy time of year. Rock Hall restaurants will offer discounts and special as well, to help fill you up and fuel your shopping adventure.
---
WinterFest Weekend 2017
Friday, December 1 through Sunday, December 3, 2016
Location: Downtown Chestertown, Maryland
Visit Chestertown for three days of holiday fun, food, shopping and entertainment!
---

Santa Comes to Town!
Saturday, December 2, 2017 | 6:30pm
Location: Public landing on Bayside Avenue in Rock Hall, Maryland
Santa arrives by boat at the public landing at about 6:00 PM, accompanied by the Kent County Community Band. Upon arrival, Santa is transported to Main Street where he "takes up shop" in "Santa's House" on Main Street to meet children and hear their Christmas requests. The Kent County Community Band continues to play Christmas tunes on Main Street during Santa's visit.
---
Galena's Tree Lighting
Sunday, December 3, 2017 | 7pm
Location: Galena Town Office, 101 South Main Street Galena, Maryland
Celebrate the annual lighting of the Galena tree and the arrival of Santa at this holiday event.
---
Miracle on 34th Street
December 1-17, 2017 | Shows Fridays and Saturdays at 8pm, Sundays at 3pm.
Location: Garfield Center for the Arts, 201 High Street, Chestertown, Maryland

Take a break from the holiday bustle and enjoy a holiday classic at the historic Garfield Center for the Arts in downtown Chestertown.