A History of Caulk's Field and Isaac Caulk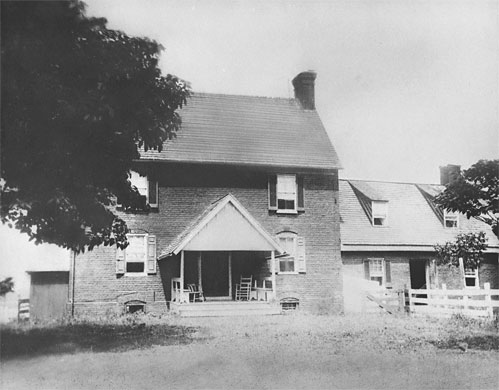 If the Battle of Caulk's Field had been fought just a couple of years earlier, the name of the battle would have been different. It would have been the Battle of Moore Field, and, in fact, it was called that by some. That's because Isaac Caulk, the owner of the property at the time of the battle, had inherited it only two years before from his uncle.
The son of John Caulk and Asenath Moore, Isaac was born in Kent County in the vestry of St. Paul's, on Jan 9, 1762. He grew up with at least four brothers and one sister.
His father is listed in Kent County in the 1790 census but is not on the 1800 census, indicating his likely demise before that date. Two of his brothers, Richard and Thomas, left the state to seek adventure in the untamed frontier, settling in part of the French Louisiana territory that would later become Missouri, where they would become prominent citizens.
Isaac is found on the 1810 census in Kent County, listed as the head of household. But he wasn't yet living on the plantation that would bear his name. That property belonged to John Moore, his uncle.
The property, comprised of about 300 acres of the original 1,500-acre Arcadia tract near Belle Air (Fairlee), had been in Moore's family for three generations – it had been purchased by Moore's grandfather who passed it along to Moore's father William. It was a productive and profitable farm.
William Moore probably built the 2½-story brick house in 1743. The house remains today, well tended by its current owners, as a subtle corner on the north side of the field that would later become the scene of a battle.
It could have turned out differently. The plantation was nearly destroyed in 1807 when a fire burned two barns, a granary and other outbuildings along with 120 barrels of corn. Some thought the fire was intentionally set by someone angry about a decision made by John Moore in his role as a justice of the peace. Gov. Robert Wright offered a reward of $200 for the capture of the perpetrator. It's uncertain whether anyone was ever charged with the crime.
Isaac's uncle, born about 1732, may have served in the Maryland militia during the Revolutionary War. Along with being a justice of the peace, he was active in state politics and in 1790 served in the House of Delegates. He did so again in 1804.
John Moore died in1812, and having no children to inherit his holdings, left his possessions to brothers and two of several nephews. The will was submitted for probate Aug. 11, 1812. Isaac was appointed executor and he was left the Arcadia plantation. He was assigned the duty of making the $24 annual payments to Moore's housekeeper, Mary Battershell.
The record is scanty on Isaac. It's uncertain if he had children and it's not even clear he was married. A few things are known. In 1806 he was made a captain in the state militia. In 1807 he was appointed to a special "Board of Agriculture" by the Legislature.
Though he was an officer in the militia, oddly, there is no mention of him participating in the Battle of Caulk's Field, Aug. 31, 1814, the British face off against the militia in Caulk's cornfield. In fact, it's not even certain that Caulk was home at the time.
After the war, Caulk lived out his life on the plantation. He is listed in Kent County in the 1820 and 1830 censuses.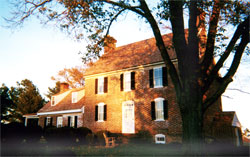 When he died in 1832 at the age of 70, Isaac Caulk had no will. But the inventory of his possessions gives a core sample of the man and how he lived his life. Among his worldly goods, in addition to household furniture, utensils and foodstuffs, was 110 ounces of silver, silver watch, medicine scale, looking glass, two pair of old spectacles and one "old electrifying machine." He had a menagerie of farm animals, including six breeding sows, six shoats, 14 pigs, one red and white cow, one black heifer, a small bull, four yearling calves, a gray horse, an "old black horse," a young bay mare, an old black mare, a young colt and 14 sheep.
Caulk had an extensive collection of books, indicating that he was well read. One was "Cooks Voyages" – perhaps he wished he had followed a life of adventure, like his brothers. As it was, he died where he had lived for 20 years. His remains were probably interred in the family plot located on the property.
Article and current photo by Kevin Hemstock