Beaches in Kent County Maryland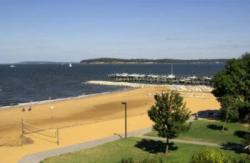 Betterton Beach
This 5 acre landscaped, family oriented waterfront park is the largest of two public beaches in the county, both located on the Chesapeake Bay. (The other is in Rock Hall Maryland). The exceptional sandy beach has 300 feet of frontage for swimming and 700 feet of shoreline access. It is equipped with a bathhouse with public restrooms and 500 feet of boardwalk, with benches, lighting and handicap access.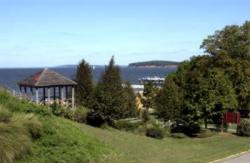 A picnic pavilion is located on a bayview bluff. There is a fishing jetty with a surface walk, a public pier and improved parking areas. Boating is available from a public landing and pier.The park is located near the mouth of the Sassafras River at the northwest part of the county, where fresh water currents lower the salinity of the upper Chesapeake and free Betterton's waters of sea nettles, which in late June or July often interrupt swimming lower down in the Bay.
Ferry Park
Rock Hall's small swimming beach and gazebo, known locally as Ferry Park, is located on Beach Road. With picnic tables, barbecue stands, and pavilions, it offers outstanding views from the Chesapeake Bay to the western shore and allows one to experience some of the best sunsets imaginable.