Driving Tour of Betterton, Maryland



Today, Betterton is a residential community with a beach and park at the mouth of the Sassafras River on the Chesapeake Bay. The broad expanse of public beach features a beautiful vista and sea nettle-free swimming during the summer. The park includes bath houses, free picnic areas and adequate free parking.
Originally, Betterton was a thriving beach resort located on the site of an early farm named 'Fish Hall'. The Turner family was the driving force in its early development and the town was named for Richard Turner's wife, Elizabeth Betterton. With the decline of the steamboat traffic on the Chesapeake Bay, the influx of visitors diminished.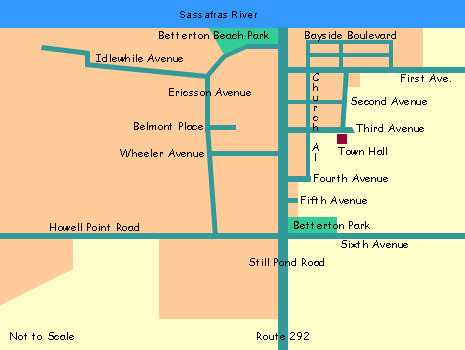 From Betterton, take Route 292 south to the small town of Still Pond. The name is a corruption of "Steele's Pone," named for an early settler who took up land in the area. "Pone" is an Elizabethan word which simply means 'favorite.' From Still Pond, follow Route 556 east to Route 298 North and turn left on Route 448 North to travel up to Turner's Landing.